We've been with Magento since it's very beginning and we watched it grow and we grew with it. Somewhere in the second half of 2007, Magento started growing attention of ecommerce community.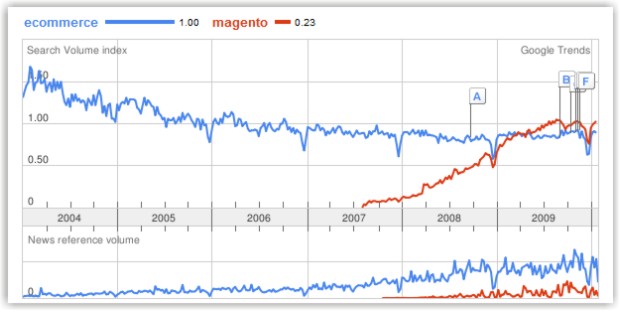 Today, according to Google trends, Magento is more popular than ecommerce itself. Somewhere in March of 2009 – less then a year ago – terms "magento" and "ecommerce" became equal and from there on, Magento took the leading position.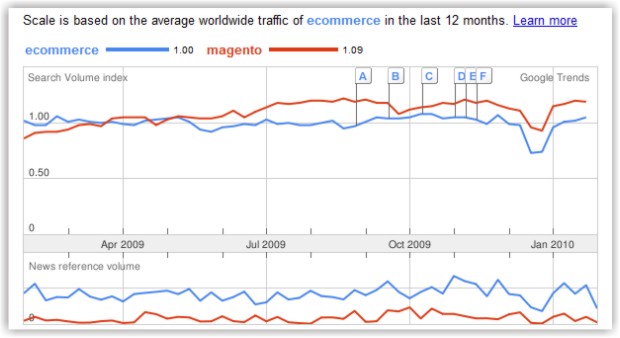 Of course, this is not the whole truth, since ecommerce is used in many synonym forms such as "e-commerce", however, Magento is still much stronger keyword then any of these synonyms individually.
If you look at the curve from the marketing perspective, you will notice that Magento shows significant and stable growth rate with no sign of decreasing or stagnating any time soon.
The graph at the bottom shows us there is significantly bigger amount of articles (or news references) about the term "ecommerce" then there is about "magento" and despite this, Magento still manages to attract more search traffic.
If we compare it to the competing platforms (Magento vs oscommerce vs virtuemart vs zencart) the graph shows us the clear winner is once again – Magento.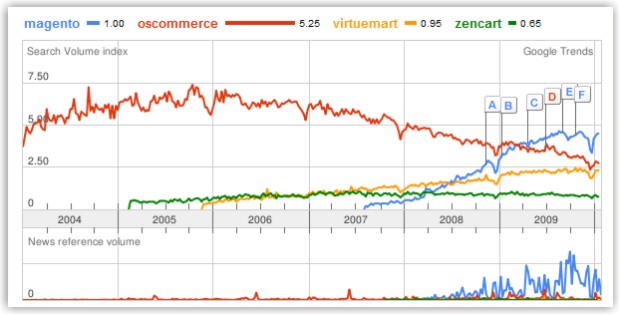 There is your answer to the question from the title (How popular is Magento?) – a lot. To quote some of the real world numbers from Magento's official website:
$25 Billionin transactions
30,000+ merchants
1,700+ extensions
1.5 Million downloads

And counting.