Inchoo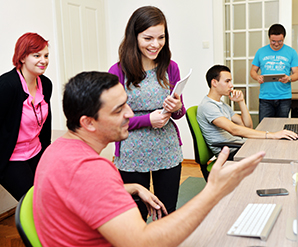 Do you want to learn a few things about us?
We tried to make the text short

Inchoo was founded in May 2008. in Osijek, Croatia with a strong focus on providing solutions for eCommerce businesses. Although we have experience with various platforms, Magento was our only choice since version 1.0 emerged.
We are passionate about sharing our experiences with the development community via our blog. This was recognised throughout the community and we're happy to see many of the visitors come back and leave their comments on this website. We enrolled in Magento Solution Partner program in 2010 and in 2013 we have been upgraded to Gold Solution Partner status.
Magento Solution Partners are experienced and successful providers of ecommerce solutions, they deliver complete solutions and support the customer after the sale. They also play a critical role in the continued growth and adoption of Magento. Our expertise with Magento has been further tested and proven as we are actively involved in the official Magento certification programs and at this moment we have the total of 18 Magento Certified Developers which is among the highest in the Magento world.
Our work doesn't stop with the launch of the website. We strive to establish long term relationships with our clients by helping to achieve their goals with online marketing strategies using several different marketing channels like search engines, social media, eMail, offline campaigns and many more.
If you need to have your existing site switched to Magento, we're here for you. If you need a fresh new online store, we're here for you. And if you want a better online presence for your store, guess what? You got it – we're here for you.
All you need to do is to fill out the Request a Quote form below and we'll get in touch.
Inchoo on YouTube
Aescripts Magento eCommerce website made by Inchoo
We have prepared a video interview with the aescripts.com owner Lloyd Alvarez, who even flew from New York to Osijek few days before launch to give this interview on his experience with Inchoo and, of course, enjoy local cuisine.
See More Videos
Job Opportunities
We are in constant search for talented individuals who can work with us here in Osijek, Croatia.
We publish our open job positions both at our site in Croatian language Inchoo.hr
Current job opportunities are:
What our Clients Say
Inchoo Magento Development
"
Inchoo was great to work with. We needed a provider who could offer us a great looking store and also give us other recommendations of how to better serve our customers. Inchoo was a clear winner when we compared all they have to offer against other service firms. The proof is in the numbers and after the revamp by Inchoo we have seen promising results. They were able to keep us within budget and on time. We will continue to work with Inchoo for future needs. Thanks!"
JC Hosler - Authentic Lacrosse