Kapitol Reef :: Magento store with 1 product

Can an online store have only one product? Sure it can and we give you the one that just launched. Kapitol Reef was founded to develop, perfect, manufacture and market a new breed of snorkels based upon pressure-balanced breathing in the aquatic environment. The entire focus for this company is to deliver best-of-class products, starting with the snorkel. Kapitol Reef is in the market for many years and this week they published a new site. Similar to our work on Teraflex project, we used WordPress and Magento platforms for the development.
The request was to have an extensive online store solution with multiple customers groups. Those groups should have different product prices and different payment options. Magento seemed like a great solution for such a request, although the initial concern was if it might be an overkill considering the fact we only have one product to start with?
When the development started to roll out, the concern was no more. This will work superbly. We give you the new Magento store that uses a combination of WordPress and Magento.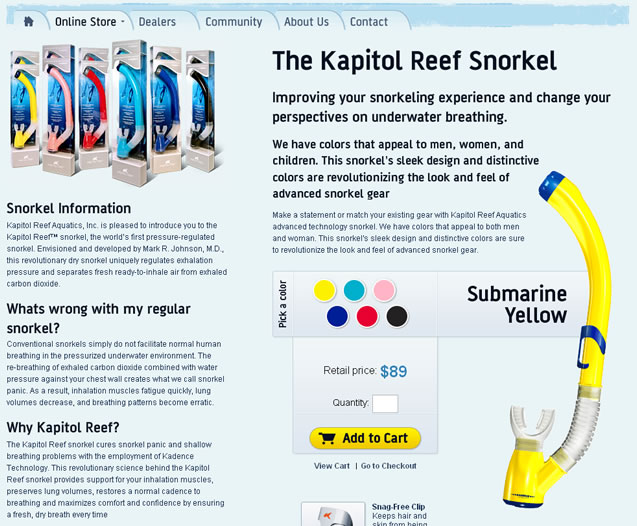 You may also notice a styled color switcher feature we developed for this project. As this product comes in various colors, we decided to spice up the product info page and style the color choosing to replace the default select box.