What Questions to ask an eCommerce Development Agency

Building a new eCommerce web store, or upgrading an old one?
The challenge is to find a good eCommerce web development agency. Although there are handy tips for choosing an eCommerce development agency, sometimes it is difficult to come up with a set of questions to ask the agencies, so that you can compare them and, ultimately, make a good decision.
Because of that, we have thought of some that should be of great help to you.
They are grouped according to the topics they cover, and also for easy reading.
1 – eCommerce website development costs
2 – Experience in creating eCommerce websites
3 – Steps & Time-frame for eCommerce development
4 – Post-production support from an eCommerce development agency
5 – Available employees
6 – Managing your eCommerce project
7 – Knowledge & eCommerce certifications
8 – Communication
9 – All other questions
eCommerce website development costs
How did they come to that cost estimate for your project?
Can they explain their pricing in a few words/sentences?
Why is their cost estimate higher (lower) than the majority of other agencies?
What is the usual Total Cost of Ownership for similar projects done in the past?
It's important to ask these questions only after you have thought of the available budget. There is no sense in asking for a price if you do not know your budget. Also, if something is cheap – that doesn't necessarily mean that's good.

You are looking for proof of "process" that lies beneath their pricing. If they can't explain logically why their price is such – they probably do not have deep knowledge of all of the steps behind the process of building an eCommerce website and costs needed for each step.
My recommendation is to search for the next, more experienced eCommerce website development agency.
Experience in creating eCommerce websites
Can they show you their references?
Have they catered to the business of your type?
How many similar projects do they have?
There are two main reasons for asking those questions:
a) You are looking for any experience they have, BUT with similar businesses to your own. Such an agency would probably invest less time getting familiar with your offering and quirks of business.
But, then again, there is an extra question to think of in this situation. What if they did a bad job the first time around? What if they did a bad job with getting to understand & know former clients businesses?

The solution is simple. Try to contact former clients and ask them about satisfaction level they had with that eCommerce website development agency. Many development agencies are putting clients in their portfolio only because they are a recognized brand. A brand that looks good on their portfolio. So – make sure to reach out to those clients.
b) There is one more reason to ask questions about similar projects. By asking those questions you are looking for similar experience with past projects that had similar
workflows and functionalities.
If you are asking for some specific functionality, then it is a good idea to ask the agency if they can do it, or if they did it already. If they had any similar experiences with asked functionality, they will probably do it faster.
Steps & time-frame for eCommerce development
Can you describe the steps in the process of development of my eCommerce project?
What is the time-frame expected for the project to be completed?
What happens if the projected time-frame is exceeded?
A highly organized eCommerce development agency will have its process divided into several steps or phases. By asking these questions you are trying to see their level of organization.
The higher the level of agency organization, the better the chance that they will do a quality job.
By asking for a projected time-frame, or deadlines, you are finding out if it's too long compared with your requirements and business plans. Sometimes, promises of quick turnaround times can also be warning signs. When on a tight deadline, the agency might not do a quality job in delivering or testing the completed website.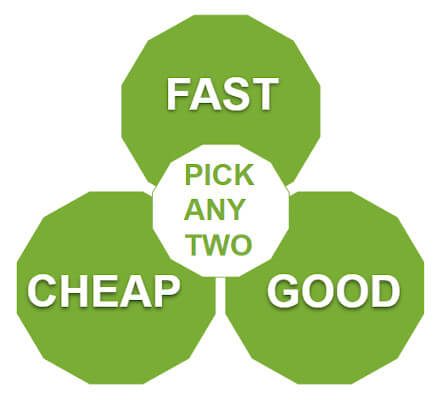 Also, there is a research paper that is saying that when a deadline is set – there is a greater chance of getting the job done. According to that, there is always a good reason to set a certain time-frame if you want something done.
If an eCommerce agency is avoiding giving you a clear answer to projected deadlines or asking you follow-up questions to be able to determine those – they probably do not have enough experience or knowledge.
Post-production support from an eCommerce development agency
How do you charge for post-production support? What do you charge?
What types of future "issues" are covered with a warranty? Is there any warranty?
What is your policy for ongoing maintenance and needed upgrades in the post-development phase?
The cost of building a website consists of not only of the cost of "asset" but also consist of the cost of "operation". You have to think of "cost" in a long-run. Some agencies are charging less in the beginning, and extra for any post-production work.
That's why it is also a good idea to double-check everything. Every step that will ensure the full functionality of an eCommerce store. Even after the website is delivered.
Available employees
How many people will work on my project?
How many active web development projects do you have running?
Do you have enough people that you can guarantee if the need arises for any post-development issues that it will be solved on time?
There are two main reasons to ask those questions. The first is to ensure that the agency is not over-stretched with current projects. If people working for that agency are under constant stress of overwhelming work – they will probably do unintentional mistakes. Mistakes that can harm your future website.
Another reason is that you are trying to find out if an agency has any third-party developers. That doesn't have to mean that this is bad for you or for them. But, if their process of building a Magento website is not optimized, or properly managed, you can face greater time delays in delivering finished eCommerce store when third-party developers are in the picture.
Managing your eCommerce project
Can I talk and get to know a Project Manager before I agree on cooperation?
Can I take a look at a sample project plan and be sure to take a closer look at the types of activities it includes?
Again, there are two main reasons for asking those questions. The first one is that you are trying to get to know the person with whom you are going to spend most of the time communicating. If you can't "stand" that person (project manager) then, there are going to be big problems in building your web project.
Without open communication in which the client can ask questions and give ideas, there is a greater chance that the end result expectations will not be met!

Another reason is that you are trying to see the the level of organization of that agency. It is much easier, and quicker if every step in any project is set up in advance.
Think to find another agency if the project plan consists of only two or three steps. A general rule of thumb is that any project if it's planned thoroughly, consists of several phases and multiple steps.
Knowledge & eCommerce certifications
How do you ensure the high knowledge level of your employees in general?
What certifications do you have as an eCommerce website development agency?
What certifications do your employees working on my project have?
If the agency is saying that they "have the knowledge" – then there would be no problem in proving that statement. And one way of doing that is looking at certifications. Certifications for both the agency and its individual developers.

It's simple. The world of eCommerce web development is changing rapidly. There are numerous patches, versions, and even new technologies emerging. You are trying to get the information if they have that knowledge or not.
Another way is looking at their blog (to search for proof if they are following all the latest changes) and their portfolio section.
Communication
What type of communication mechanism are you using?
Can you describe your communication flow?
How will I be informed about the project status during development? How often?
Communication is probably one of the most important things in any business relationship. You need to have the possibility to ask any question that you can think of. And to expect answers to those questions.
Also, if you have any idea that you want to discuss with an agency, you need to have "communication ways" in which you can share those ideas. And giving those ideas without the feeling of disdain in the process.

You are looking for at least 2 types of communication channels. One, which can be a quick channel. And other, which is for "slow" communication (which does not have that level of importance).
The agency also needs to inform you of its progress with your project. Look at what channel (and how often) they are suggesting. Of course, it would be illogical to ask daily reports, but once a week is OK.
All other questions
Do you work with any third-party developers/designers?
If yes – how can you assure that the quality level will be implemented throughout the project?
The second question is what matters the most here. Third-party developers are not in the same office as the agency. They can be on the other side of the world. And the main problem here can be communication funnel agency-developer-agency. What if the developer didn't understand everything because of poor communication channels?
Your project can suffer from additional delays when/if agency developers need to take over and fix all mistakes from third-party developers.
Do you understand everything in the contract? Is the contract "clear" in describing your project?
You are looking if the agency is using a generic contract. If there is no mention of any specifics of your eCommerce project, they are probably using it as a generic template.

The contract must include any specifics of your project. Remember, if it's not written – the agency doesn't need to do that. Best rule of thumb is to write "everything" in the contract. Even if something seems very obvious and is generally implied.
eCommerce development agency questions intended for clients
There are also many other questions to ask the potential agency. But, we must not forget that there are also questions that agencies are asking potential clients. Although someone might get a bit defensive when they are faced with a lot of follow-up questions from an agency (we've been there), the logic is quite the opposite.
For example, there are questions about the website/project budget in which the agency is trying to find what functionality, plugins, and eCommerce platform is best suited for your environment. They are matching your needs and requirements with their previous experiences and answering these questions can save everyone some time and money down the road.
Be prepared, not only to ask questions but also to answer a number of questions. If the agency is not asking you any questions – they are probably not interested in you and your project.
I hope that these questions will be helpful when choosing your eCommerce development agency.
Oh, did I hear that right? You want to know when we can get started with your project? Before reaching out to us, be sure to explore more on how we can bring the most flavorful Magento store to you and your customers. We are ready for your questions so don't hesitate to reach out to us now!