Assess the Health of Your Advertising Campaigns

What is a PPC Audit?
A PPC audit is an analysis of PPC efforts to determine whether the account is being optimized correctly and to achieve a better return on investment in advertising by improving low-performing elements.
PPC is a very complex part of digital advertising; even if you follow best practice guidelines, the chances of missing something are very likely.
If we consider the dynamism of the area, the number and frequency of changes introduced every day, and new things that need to be learned and tested, we can conclude that keeping accounts on the right track is not easy. Keeping up with changes on Google, Microsoft Ads, or another PPC platform is quite challenging. Let's not forget that sometimes they don't even announce all the changes, especially if they are minor, and they can affect the health of an account.
How can an audit help?
Getting to know your account 
Auditing is good for getting the bigger picture. This way, we can discover small things we miss during daily optimization. When you look at the account as a whole, you will gain insight into useful information, after which you will be able to recognize some trends you did not see before and form the next steps that need to be taken to fine-tune the account.
Recognize changes and shifts in the PPC market
You will easily recognize changes in the behavior of your consumers. What they bought in a certain period, and how much their behavior and purchases have changed compared to the previous year. In addition to changes in consumer behavior, you can easily recognize if your account has been affected by competition activity. Did your average CPC go up because of their higher investment? Auditing allows you to identify these types of patterns and prepare you for the dynamic and ever-evolving PPC advertising environment.
Reduce wasted spend 
It is not enough to set up campaigns on your account and let them "run by themselves." In the beginning, they may bring a good result, but in the long run, they certainly won't. The audit will show you which keywords, ads, or other elements did not bring conversions and was just wasting the budget. Anything that just eats up the budget needs to be paused and new solutions tested in order to find the sweet spot, i.e., the combination of all elements and functionalities that will bring the desired result.
Unfortunately, no single combination and no single strategy will bring you a good result forever, so the audit is here to reveal where there is room for improvement. The job of every PPC manager is continuous optimization, testing of new ideas, and revising what has been done to improve the existing situation. 
Identifying new opportunities to generate more sales
As always, the ultimate goal of an audit is to streamline your efforts so that, at the end of the day, you generate more sales and thus make more profit. An audit can give you insight into the seasonality of certain products that you might not be aware of if you were only doing daily optimizations. This way, you can better allocate your budget and be one step ahead of the competition.
In conclusion about the PPC audit…
Regular PPC auditing of your campaigns is essential to gain insight into the elements of your account that work well and bring results, but also those where there is room for improvement or need to be removed entirely and replaced by new solutions. Auditing identifies the weaknesses and strengths of your account, thus ensuring proper optimization and continuous improvement of the overall result. 
We have prepared this short PPC Audit Guide to make it easier for you to find your way when auditing your PPC account. This guide aims to provide you with critical elements for auditing and guidelines for its performance. You will be able to determine whether the correct optimization is being done on the account and whether you are on the desired path toward achieving your business goals.
Conducting an audit is a challenging task and can sometimes be overwhelming. If you get lost and are unsure if you are on the right path, remember that our agency is here to help. For a more detailed and comprehensive audit with personalized recommendations and next steps, reach out to us. We'll be happy to do it for you.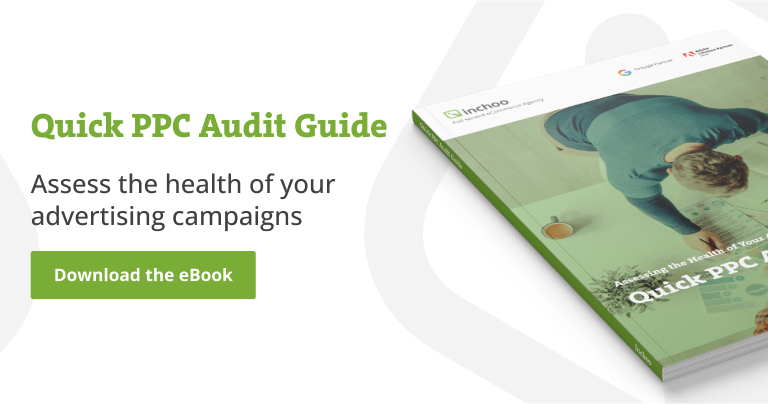 Related Inchoo Services