Common Google Analytics Mistakes

Although Google Analytics 4 era is approaching rapidly, we've wanted to share the most common Universal Analytics & GTM mistakes we've encountered while auditing numerous Google Analytics accounts.
Feel free to take a sneak peek into our most common recommendations that come from the audit report.
Basic Google Analytics vs. Google Tag Manager & Enhanced eCommerce setup
If you still fire Google Analytics tag through Magento backend and don't have Google Tag Manager extension, you're in on a really, really basic setup.
While basic Google Analytics provides many basic tracking opportunities, much more can be tracked using additional Universal Analytics features and fully utilizing consolidated Google Tag Manager and GA.
A list of common custom reports and features required by clients that you can achieve by using Advanced GTM & GA tracking:
User – new accounts: "source of traffic" custom report

User – new subscribers: "source of traffic" custom report

User – new subscriber: "place of subscription" custom report

Logged-in/logged out users (custom reports based on login state of the user)

Revenue & transaction (or any other) report based on the login state

Revenue & transaction (or any other) report based on Magento user_id (find better customers)

Top visitors (number of visitors for each Magento user_id)

Coupon code usage report – which coupon codes, how many times, total revenue per coupon code, who used it (Magento user_id), etc

Shipping Method usage report(s)

# of transactions, total shipping costs, total revenue, etc. per shipping method

Payment Method usage report(s)

# of transactions, total revenue, etc. per payment method

Category pages

Which category pages are your customers browsing the most?

How deep [pagination] do users browse all categories or specific categories?
How does each category contribute to total revenue [page value in Google Analytics]?

Product pages [reports based on product page views]:

Metrics tracked: pageviews, # users viewed, page value!
most popular/viewed brands? [sorted by brands, drill down by product names]
brand popularity by category report?
most popular variations [it could be color on some sites, on others it could be some
other attribute(s)? [sorted by variations, drill down by product names]
variations by category report
number of images per product report [how a number of images affect page value, etc.]?
They do sound like the information you would need to make some serious business decisions, don't they?
eCommerce tracking not enabled
eCommerce tracking allows you to collect and analyze purchase and transaction data. It is an essential part of any eCommerce website because it helps you find out what products users buy, and your generated revenue together with the revenue, tax, shipping, and quantity information for each transaction.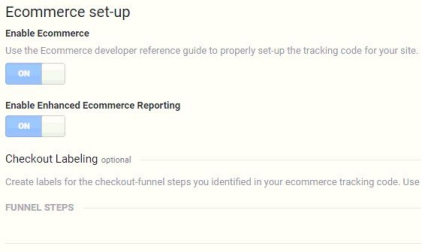 What we will notice frequently in our audits is that eCommerce tracking is enabled, but the data is not being collected because Enhanced eCommerce events are missing. There are many events that can be tracked, and later used for better data-driven decisions, segmentation, and GoogleAds remarketing.
With advanced GTM and UA setup you would be able to track user's clicks, actions/ events like
add to cart,

remove from the cart,

newsletter subscription

user registration

….
Defining (proper) Goals in Google Analytics
Properly configured Goals allow Google Analytics to provide you with critical information, such as the number of conversions and the conversion rate for your site or app. We will say that defining goals in Google Analytics is a fundamental component of any digital analytics measurement plan.
In this case, one of our clients had 8 goals set up, and of those 2 are active and receiving traffic.
One was used for tracking add to cart, one for tracking visits to cart page, and the other one is meant to track shopping funnel "cart page" -> "checkout success". The original intention was to track "add to cart" and "checkout flow" actions, but these goals are suboptimally configured and obsolete. The issue was that they tracked visits to specific pages as goal conversions, so "Add to cart" was inflated by regular visits to the cart page.
Once the audit was completed and we started with our Magento digital marketing services, we cleaned out the Goals sections and made the decisions on what should be tracked as a goal.

Proper GA goal set up – after the audit
Without proper information, it's almost impossible to evaluate the effectiveness of your online business and marketing campaigns. Are you sure that you're having proper goals set?
How's your Google Analytics Setup
If you're looking for a helping hand with your Google Analytics & Google Tag Manager setup, or you would want to check if there is room for improvement, we would love to hear your concerns! Reach out to us and reserve your free consultations with our Google Analytics & GTM consultants!
Related Inchoo Services