Google Dynamic Remarketing Campaign: a short set-up guide

We wrote about Google Shopping Campaign as an unavoidable type of online advertising and its significance in web shop sales. But, what can we do about the buyers who are not ready to buy a certain product right away? The answer is remarketing!
Remarketing enables you to reach the client who visited your web shop, but did not buy anything or did not complete any goal you defined. Because of that, it is necessary to remind those clients that they did not fulfil what we think that is their "task/homework" via Google Display Network or Google Search Network. In order to reach your goal for them to purchase as efficiently as possible, it is necessary to show the clients what they have been searching for and encourage them to re-engage. This is exactly what Dynamic Remarketing does.
What is Dynamic Remarketing?
Dynamic Remarketing is a type of campaign for Google Adwords, where Google itself creates personalised ads for every individual visitor. The ads don't hold the customer's name, but the products he or she has previously watched while surfing the web site. Ads show the price, as well as the description and the image of the product, and the text which you can add. Before Google does all of this for you, you have to generate the product feed from which Google will take data, create an audience and ad formats you want and need.
Prerequisites for Dynamic Remarketing Campaign:
Product feed
The first thing you have to do is make a product feed (.csv, .tsv, .xls, or .xlsx format) with certain attributes connected to your product (you can also use the feed you have created for Google Shopping Campaign). After doing this, upload it to Business Data section in your Google Adwords. But, if your are a retailer, you will have to upload the product feed to Google Merchant Center. There is one important thing to remember – when you have created the product feed, your job is not done. If you have a lot of products, it is advisable to update the product feed once a day because of the possible changes in price, sale terminations,  products being out of stock and so on. You do not want to lead the potential buyers to web sites with incorrect prices, out of stock products, 404 landing pages, and similar. The problem is not only with taking buyers to the wrong landing page, but you also risk a penalty from Google. Managing product feed can be difficult, especially if you have a lot of products and changes with your products. It is thus necessary to have a person who understands it all and monitors what you do in order to prevent possible problems, since this is the key part which makes Dynamic Remarketing achieve good results.
Remarketing tag with custom parameters
Then, after creating the product feed, start with setting up a remarketing tag with custom parameters to all the web pages from which you want to gather information about your visitors. You can find your remarketing tag in the Audience section of your Shared Library, and when you get to that part, just click on "set up remarketing".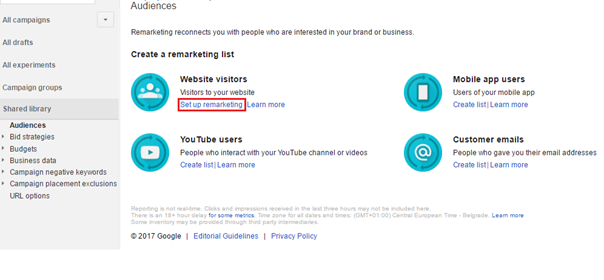 The next step will lead you to this.

The most important thing is to tick the box in order to use the Dynamic Ads. When you are done with that and when you have chosen "retail" from the dropdown menu under "business type", you should click on "set up marketing", which will lead you to a detailed instruction on how to connect Google Adwords with Google Merchant Center (in case you have not already done this). It will also show you how to connect remarketing tag with instruction on how to implement it on the site. When you are finished with the implementation of the remarketing tag, Google Adwords will create 6 default remarketing lists.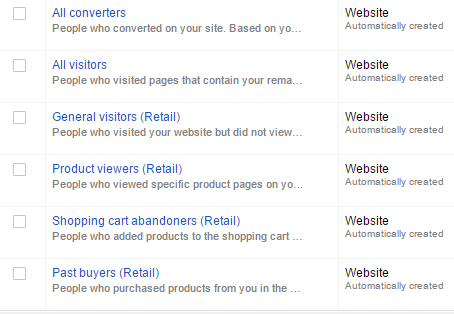 My advice is to think about which people you want to target, maybe according to some shared features, their behaviour on the web site, the way they found your site, and so on. Based on these, you can create your own remarketing list with specific rules. Also, you can create the audience via Google Analytics, if your accounts are linked. This is very important because you can bid differently for every ad group which has been added a different remarketing list.
Dynamic ads
After creating remarketing lists, you also can create ad groups for every individual remarketing list, as well as create ads so that the campaign can start. Under the tab "Ads", click on the button "+AD" and choose Ad Gallery, and then Dynamic Ads. The next step is to choose between different ad formats: dynamic responsive ads, dynamic product ads – image ads, and dynamic products ad – text ads.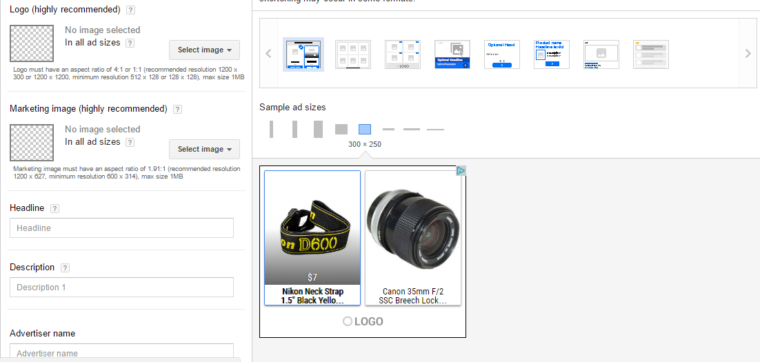 The picture above shows display responsive ad format, which consists of 8 different ad formats with pictures, texts or the combination of both. Your job is to add a logo of your company, write a headline and a short description, while Google Adwords automatically transfers pictures, prices and the description of the product from product feed.
The difference between standard and dynamic remarketing
Main advantage of dynamic remarketing in comparison to standard remarketing, is that you can target visitor's product preferences because dynamic remarketing does associate product data and browsing history with the visitor.
Due to this feature, dynamic remarketing ads can be precisely targeted to a specific product or a group of products visitor has browsed. In addition to that, ad creatives can be automatically built using ad templates. With standard remarketing this precise targeting and automatic ad building is not possible.
For example, a visitor on the site can browse garden furniture, and with standard remarketing you might have an ad that shows a drilling machine, which is definitely not an optimal way to attract the visitor to come back to the site.
Because of all these reasons, dynamic remarketing is a much better option because every visitor gets an ad with the browsed products. For example, visitor has browsed a specific black and white sofa, and an ad with that exact sofa will be shown to that visitor, without the need to create an ad with that particular sofa. This makes the ads more relevant, campaign management much easier and there is a better chance that the user would return and make a purchase.
Why you should use dynamic remarketing?
Ad managing – the whole process is simplified because Google creates the ads by taking data from the product feed, you only need to choose between offered ad formats and edit the text headline and description.
Returning visitor – the number of visitors coming back to the site will increase and there is a big possibility that they will buy with much less hesitation than the new customers.
Personalised ad – help with attracting customers to come back to the site because these ads are more noticeable, they include the products visitor has already shown the interest for.
Brand awareness – like other types of online advertising, dynamic remarketing increases brand awareness, therefore, number of further purchases and loyal customers.
Dynamic remarketing will help you increase the sale on web shop and because of that, it has to be a great part of your online advertising. Setting up is a bit more complex because you need developer skills for implementing the remarketing tag with custom parameters, but it won't be in vain because if you set it up the right way, you will be able to see the results. Try it out!
If all this is too much for you to handle because of all the other work you have to do, you can check our eCommerce PPC Management service and hire us. We'll be happy to help you out.
Related Inchoo Services