Best marketing campaign for your Magento web shop – Google Shopping PLAs

I am sure, for everyone in the eCommerce business, there's no need to explain what Google Shopping Ads are. But, if you are not familiar with them, they are product ads which appear in Google's SERP as shown on images below.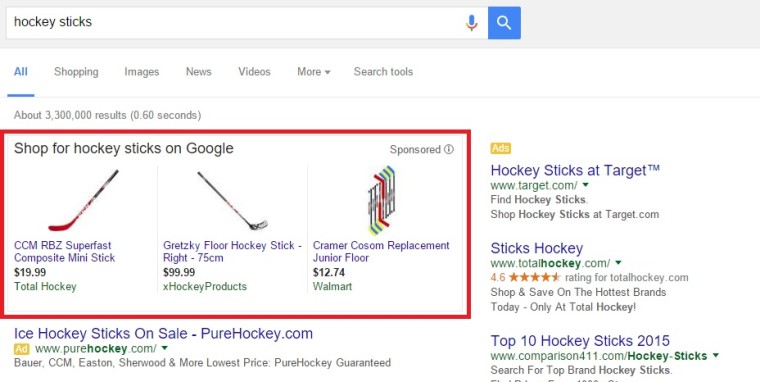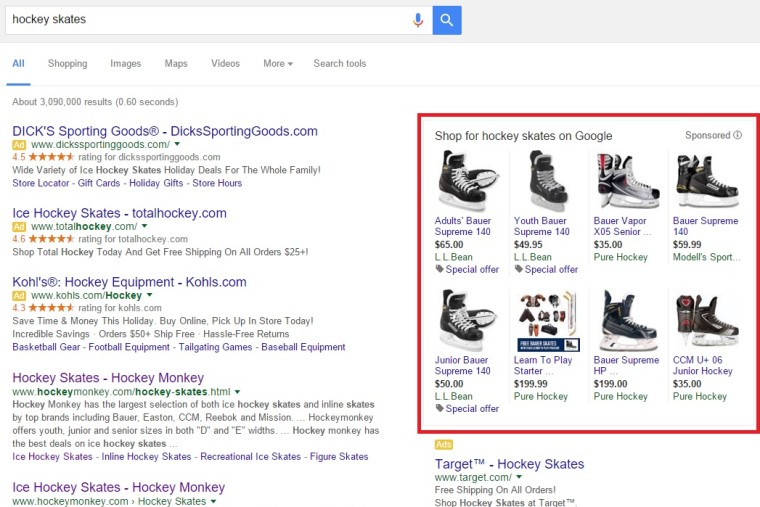 Google's Shopping campaign, formerly known as Google Product Search, is the best marketing channel you can invest on for your eCommerce business to grow. Why? Because Google knows how to do marketing. Their new ad type called Shopping Product Listing Ad, or popularly known as PLA is arguably the most cost-effective ad type if you sell products.
We started running PLAs for a client in September and by the peak of the sale season, in December, we managed to quadruple the ROI compared to the December in 2014. But that's not all… they were so effective that our client run out of stock on many of their best selling products, I quote:
Due to overwhelming demand during the holiday seasons, we experienced an unprecedented demand for our products. We are truly sorry that we completely ran out of stock on many of our best-selling items.
What's so special with Google Shopping campaigns?
In contrast to Search Network campaigns where you had to be creative, to write compelling headlines and descriptions, in Shopping campaigns, Google carved the PLA structure so creativity is no longer necessary. We now "only" need to send to Google all the necessary information about the products and adjust the bids for them based on the data we receive back.
Can you imagine creating textual ads for each product in your inventory? Creating the ads, creating the list of keywords (and negative ones), updating price changes in the description, pausing ads if they are out of stock… The amount of work you need to do to cover everything is just ridiculous. And if you have around 5000 SKUs, that's a work for 2-3 persons, 40 hours a week. If you can't afford this, which is most likely the case, you are certainly missing big opportunities to market and sell your products via AdWords. With Google Shopping, that's not the case. If the feed is accurate, one person can run ads for all of your products by spending only a few hours a week of his time.
The next big thing we got with PLAs is a much better design. When you look at the design of the PLAs and compare it to the Search Network Ads, first you will notice is the big and appealing product image which textual ads doesn't have, and second, a clear info about the product and price, which all together lead to much better quality of traffic you get.
Google Shopping click prices? In most cases, much, much cheaper than Search Network ads because of less competition at this moment. But, it got even better few weeks ago with a big change Google introduced to the SERP. Google removed textual ads from the right side of SERP, so the PLAs lost the competition on the right side. What does it mean actually? We got an instant boost over the weekend by up to 30% for the same bids. So yeah, clicks got even cheaper…
No more keyword targeting. At least not the way you did it before. Google is now targeting users based on what users are searching for and the data you've sent to Google. The better the data you send, the better-targeted ads are. You just need to strictly follow Google's Product Feed Specification. Note that you can still "target" keywords by changing your product name and description attributes, but not with a precision you had with textual ads. Nevertheless, there are still some ways to fine-tune keyword bids (generic, branded, long tail, short tail…) by using negative keywords and campaign priorities.
So, as you can see (if you've checked the link above), the biggest difference, where almost everyone freaks out, is the Product Feed which you'll need to get familiar with. When you get to know the specifications, you will notice that the attributes you send to Google can be divided into 3 subtypes (and that each attribute can be in more than one subtype):
Attributes which describe how the PLA will look like (title, price, special_price, link, image_link, etc…)
Attributes which help Google to match the search terms to your products (title, brand, gtin, google_product_category, color, size, gender, etc..)
Attributes which help you to organize products so you can manage them more easily – Product Groups (brand, product_type, condition, custom labels, etc…)
But, since product feed is a pretty large topic, we'll cover it in the next article about Google Shopping where I'll be examining the product feed specifications in details and how to match Google's Product Feed attributes with Magento product attributes.
Easiest way to start with Google Shopping on Magento
If you already know essentials of the Product Feed Specification and you want to jump start creating the feed with something cheaper solution than custom development, like an extension, I can recommend you RocketWeb's Google Shopping Feed which we are using on most of our projects. This extension is simple to use and flexible enough for almost anything you will need.
If this all is too much for you to handle because of all the other work you have, you can check our eCommerce PPC Management service and hire us. We'll be happy to help you out.
Related Inchoo Services