Impressions in Amazon Advertising Are Not All The Same – Meet The Differences

To do meaningful Amazon PPC optimization, we have to have the necessary data to analyze and improve.
This post is going to be about Impressions metrics on Amazon Sponsored Product ads.
Its main goal is to save you some time and show you that Amazon advertising impressions on different reports really are different and you aren't delusional 🙂 
Long story short: The impressions metrics you found are different. The data you are looking at is correct.
In case you want to understand what's the difference, continue reading. 
The big difference between "Impressions" and "Search terms impressions"
While looking at the impressions data in several different Amazon campaign manager reports, people that are new to Amazon advertising spend quite a bit of time wondering if they are looking at the right data or something with the metrics went wrong. 
To analyze a particular account's PPC performance, one of the first things marketers observe are: 
Impressions

Search terms that triggered these impressions
This is where people get confused when it comes to Amazon Impressions metrics. 
Why?
Because there are impression metrics that are visible in several places within the Amazon campaign manager interface, and all these metrics aren't the same. 
To be more precise, two types of impressions can be found:
Impressions

Search terms impressions
The difference between these 2 types isn't communicated well enough. 
Here is where you can find the impressions: 
Advertising – Campaign manager – You can add the Impressions column right there to see impressions data on the account level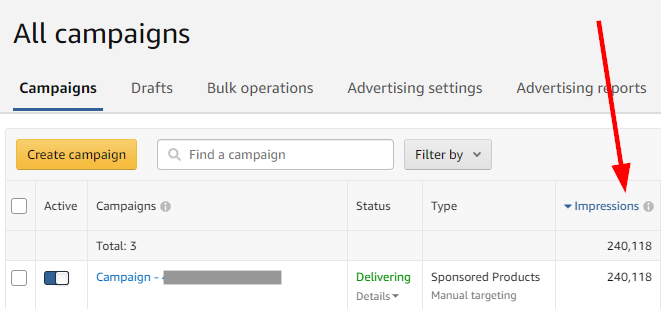 You can navigate to a specific campaign and take a look at the impressions data by Ad group.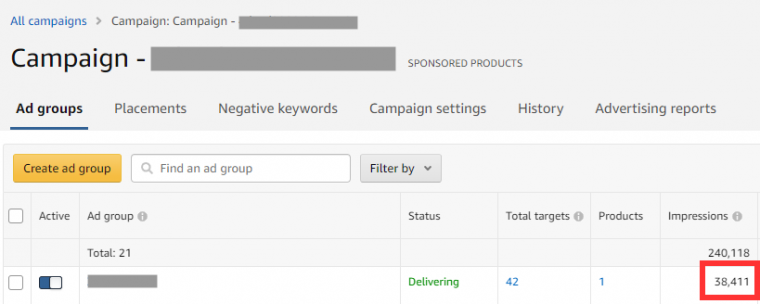 You can navigate to the specific Ad group and see Amazon advertising impressions there as well. You have several tabs there. The first one is the Ads tab: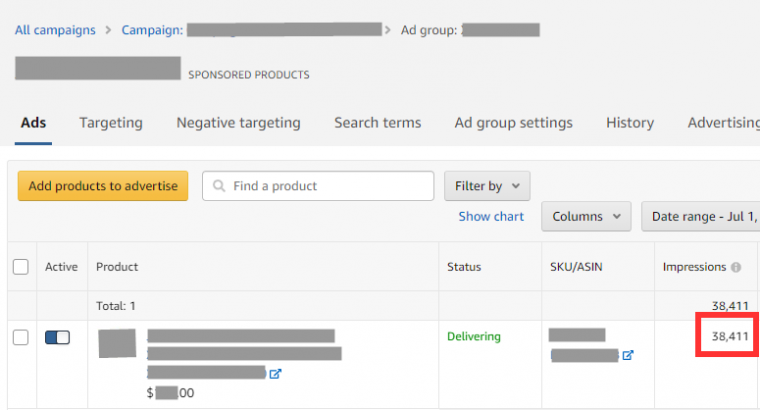 The same metrics are visible on the Targeting tab as well: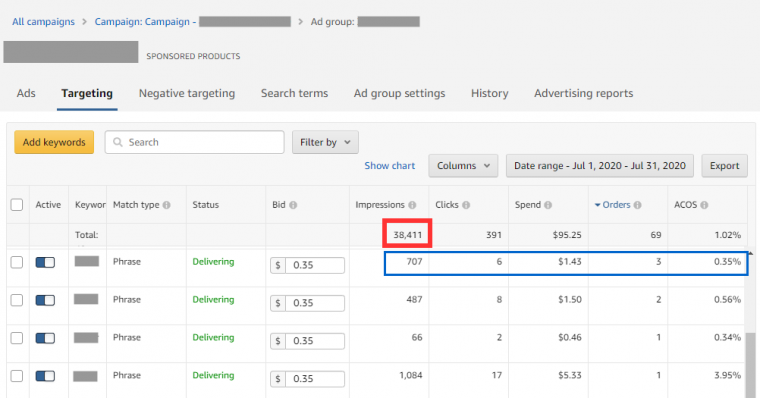 All the impressions mentioned above are going to be identical.
So what exactly are "impressions" in Amazon advertising? Here is Amazon's definition for this metric: 
"The number of times ads were displayed".
Sounds fine. No questions asked. 
However, if we want to see which search terms triggered these impressions, we click on the Search terms tab within a specific Ad group.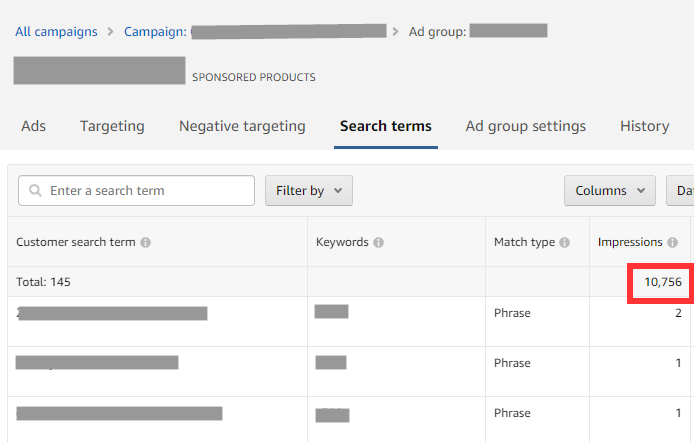 And there it is. The impressions data under the Search terms tab is different from the data under Ads or Targeting tabs. In this case, we have 38,411 vs. 10,756.
If you're new to Amazon advertising, this can be quite confusing.
Let's see how the impressions metric is defined in the Search terms report to understand the difference:
"The number of times ads were displayed. All impressions within search terms are for products with clicks, so this total may not be the same as your ad group's total."
This definition isn't 100% correct and may be confusing. 
Why? 
Because it clearly doesn't have anything to do with "products with clicks" but rather with "search terms with clicks". 
A better description for this metric would be this: 
"The number of times ads were displayed. All impressions within search terms are for SEARCH TERMS with clicks, so this total may not be the same as your ad group's total."
Let's face the facts…
Amazon only gives us info about search terms that received clicks – the stuff we paid. 
This fact actually isn't extreme or unfair at all. Other platforms function similarly. 
But we feel we are missing so much…
However, since the difference between these two types of impressions is so big, we simply feel that we miss a lot of data that we would like to analyze further.
Just take another look at the ad group from this screenshot: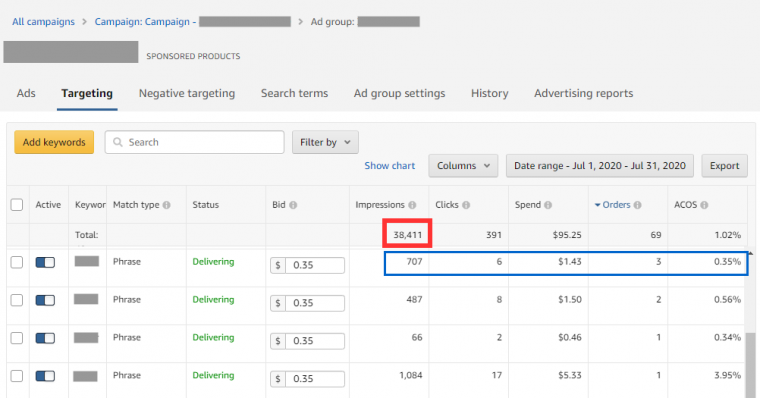 The keywords that we are targeting have amazing results. For example, take a look at the first one. It received 6 clicks that resulted in 3 orders. 
For every 2 clicks, we had 1 order! It seems that a huge opportunity lies here. 
I wish we could see more search terms that triggered these ads in the Search terms report. 
Unfortunately, instead of all the search terms that triggered those 707 impressions to appear, we can only see just 6 of them since they received a click. Therefore, those will end up in the report we have. 
How do all these other search terms look?
Maybe there is some pattern there that I could use for my Amazon advertising optimization:
adding new keywords

identifying new products that I could add on Amazon

identifying areas that I am missing opportunities due to low bids, etc. 
We will never know. 
Is there anything we could do?
Hypothetically, to find out more search terms that triggered impressions, we could create a campaign that uses automatic targeting.
But in this case, we would need to spend a bigger budget as the system would spend more money on clicks for lots of irrelevant, untargeted search terms. 
Another thing that we might do is to use the broad match for targeting. That would get us closer to our goal but we would also only get only the terms with clicks and less targeted searches.
What's your biggest frustration when it comes to Amazon reports?
Start a discussion in the comments below or contact us directly at web@inchoo.net for a consult about how to optimize your Amazon advertising.