Manually Enable Enhanced Conversions in GTM

If you're trying to manually activate Google Ads enhanced conversions with Google Tag Manager there's a chance you'll be stuck at the 4th step in the Instructions for manually Enabling enhanced conversions in the Google Tag Manager tag that says: Click Include user-provided data from your website. Well, that happened to me (and to my unknown friend here :)) when I tried to activate enhanced conversion in several GTM containers. Some tags in some containers did have that option but some didn't.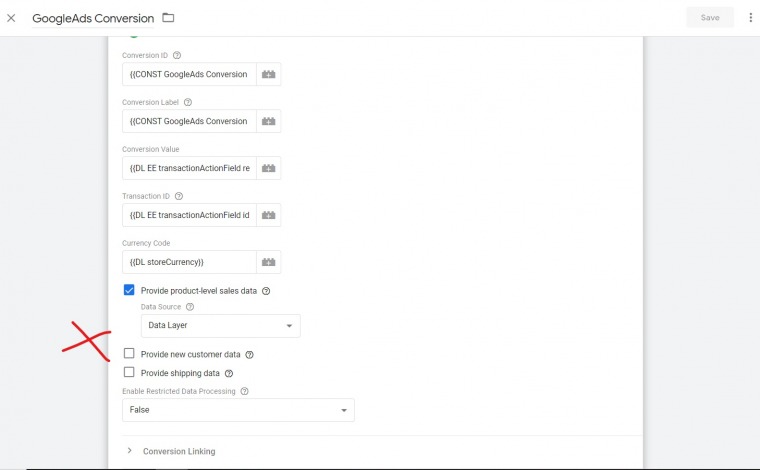 I will leave here a link to the step-by-step explained process for Google Ads enhanced conversion activation from the beginning if you want to start and check how it's done.  
It can take up to 5 days for the Include user-provided data from your website checkbox to appear in your GTM Google Ads Conversion Tracking tag after you turned on the enhanced conversion option in your Google Ads account. In the above-mentioned step-by-step explained process it is suggested that you contact the Google Team to check your GTM account if the feature after 5 days is still not available. 
I did that, and after one call, several emails, and one month after, still not resolving the issue I tried the good old-fashioned way – restarting the computer. Ok, not really restarting the computer but it's a similar fix that worked in this specific case 🙂

How to fix this issue
Simply follow the next steps:
Create a new container in the same account
Click on the Google Ads Conversion Tracking tag in a new container and the option Click Include user-provided data from your website should appear
Export the complete tracking setup from the old container and import it to the new container
Update the new GTM ID number in your webshop GTM extension (or your Google Tag Manager snippet, depending on how you connected the GTM) and you're ready to proceed and finish the Enhanced Conversion setup
It worked on a couple of our client's cases, so give it a try, maybe it will work for you too!
Do you need help with GTM?
If you're unsure of how to proceed with the Google Tag Manager configuration on your store, we are here to help! Let us audit your Google Analytics and Google Tag Manager so that we can answer the question of whether the tracking setup is properly configured and if the user behavior data that you're receiving is accurate. And obviously, prepare a specific recommendation for optimization of advanced GTM/GA tracking, Enhanced eCommerce setup, what additional eCommerce events you should start (or stop tracking).