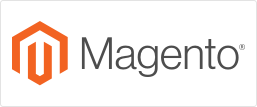 Magento is a powerful open source eCommerce platform surrounded with strong ecosystem of developers, community and more than 250,000 merchants using it to sell online around the globe. With high number or B2C built functionalities and huge 3rd party extension selection, Magento is a platform of choice for most online merchants.
On average, merchants using Magento grow 3x faster than those on competitive platforms. No wonder, because this scalable feature-rich eCommerce platform offers merchants complete flexibility and control over the store's functionalities.
Reasons to choose Magento
Site management
Online selling on Magento platform can be run effectively because you can control multiple websites and stores from one Administration Panel. With the ability to share as much or as little information as needed, enabling administration permission system roles and users, design customization, support for multiple language and currencies, tax rates, product information and content management, Magento is a beast among eCommerce platforms and features they offer.
Modular architecture
Modules and themes are the units of customization in Magento. Modules provide business features, with supporting logic, while themes strongly influence user experience and storefront appearance. Both components have a life cycle that allows them to be installed, deleted, and disabled whilst having minimal dependencies and impact on other modules.
High performance
When it comes to the page load time, query processing time and other dynamic or static operations, Magento is unbeatable. Redis, Varnish, optimized database and other modern technologies that Magento is using, are tailored for high achieving performance and satisfying your business needs.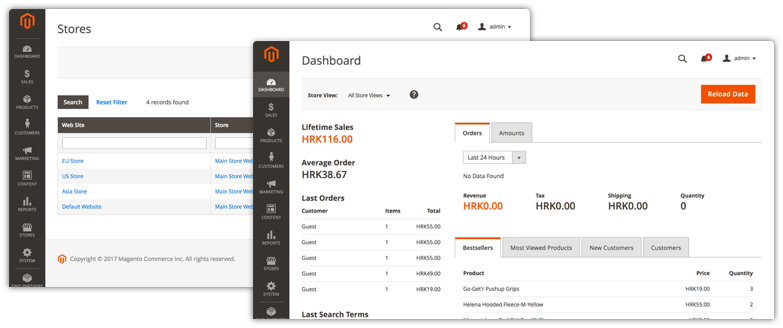 Security
Magento takes security very seriously and as a highly rated priority. With enhanced password management, prevention of cross-site scripting attacks and overall data vulnerability management, Magento is quick to respond and proactive in security patch development for his users. Magento Commerce even comes with the Secure Payment Bridge which provides PCI Data Security Standard that allows customers to securely save their credit card information for future transactions.
SEO friendly
Magento is powered with a lot of SEO friendly built-in features such as SEO friendly URLs, Google Site Map, Meta-information for products, categories and content pages, Sitemaps, URL rewrites, Description, etc. And what doesn't come out of the box, we'll make sure to develope it for you through customization or 3rd party service.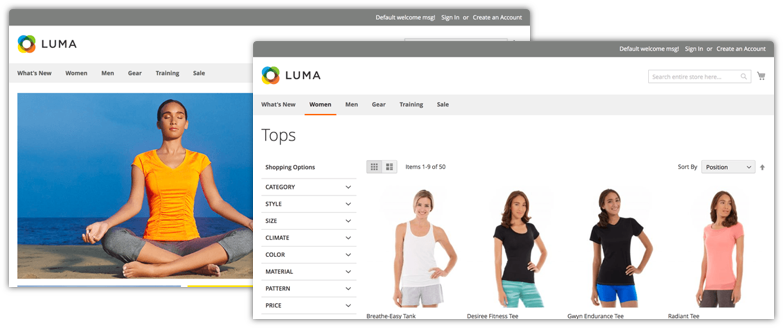 Marketing, Promotions and Conversion tools
Landing page for categories, product bundles, related products, up-sells, cross-sells, promotional pricing, coupons, newsletter management, wish lists and many more options are available in Magento Open Source. Magento Commerce comes with all that and much more!
Enormous number and ease of integration for 3rd party services
Among the top Magento qualities is a large number of third party services available for implementation. Payment gateways, database applications, shipping options and tracking, social sharing, performance boosters and many more that are already available on Magento Marketplace or can be developed according to your needs.
More eCommerce features Magento offers out of the box
Catalog management
Product browsing
Order management
Checkout, Payment and Shipping
Analytics and reporting
Customer accounts and service
Responsive design
Mobile commerce
Magento Commerce
Customer segmentation, Dynamic rule based product relations, Targeted promotions & merchandising, Persistent shopping, Content management system, Administrator permission roles, Category view and purchase permissions per customer group (limited catalog and category access), Automated email marketing reminder, Loyalty options, Return management system and lots more are on Magento Commerce features list!
Is Magento the right choice for my business?
Taking everything in consideration, Magento is a strong, flexible and trustworthy eCommerce platform with many features that come to the table. It is not negligible that community surrounding it offers solutions to every business need. See it for yourself! Schedule your free demo, or if you are tech savy, download Magento and test it yourself.
Like what you see or have any questions about the platform or migration from Magento 1 to Magento 2? Contact us! We'll be glad to answer your questions and solve possible dilemmas about the right choice of eCommerce platform for your business.
Why choose Inchoo as your eCommerce partner?
Being in Magento development world from its very beginning, we can say we are one of the most experienced teams you can find. In nearly a decade, we served more than 200 clients on over 450 projects on Magento!
We have one of the highest number of Magento Certified Developers and Solution Specialists in the eCommerce world, who strive to offer the best solution for your store. No matter if it's existing or new one, or you are switching platforms and migrating to Magento 2, with you, we will plan and carry out the whole development, design and optimization to achieve the best technical stability and user experience your customers deserve! And we are not stopping there! Our mission is to keep your store healthy and always in the loop with the new marketing trends that will increase your online visibility and revenue.
We do not have fixed plans and pricing for Magento development projects as we approach each client's needs individually and prepare proposals that are the best fit for both sides.