Automotive Website UX Challenges Resolved

Automotive parts website design has its challenges and they are revolving around parts search & fitment. Being in this industry for a long time, we've learned so much from observing an infinite number of visitors, converters, and returned buyers. We will be sharing our best practices in this blog post so keep reading!
When it comes to looking up products online, people typically initiate their search in two ways: either by searching the web using search engines organically or by visiting their go-to store whenever they need something they know can be purchased there or have had a positive experience with in the past.
Regardless of their search pattern, all these individuals share a common goal – to find the appropriate parts quickly and efficiently! If you're seeking professional assistance in optimizing your online store to enhance the user experience, we invite you to explore our design service. Our team is dedicated to helping you create a seamless and effective online store.
Issues automotive website design is trying to tackle
Browsing an automotive parts website for finding products can be a tedious task for a customer if the site fails to deliver the tools necessary to pinpoint relevant products in a catalog of thousands of products. Usually, filters, sorting options, and a catalog search do a great job, but things get a bit more complicated when it comes to vehicle parts because product relevancy is based on fitment.
When faced with thousands of products, and no clear answers to "Where to find this" and "Will it fit my ride", potential customers face doubt, which is of course, never a good thing.
These situations can end in two ways – customers will either completely abandon their search quest and turn to competition, or take the next step praying they won't have to live through a return process nightmare. While there are many small parts that can easily be shipped by mail, there are always those pesky freight items that can cause massive returns costs.
So how do we assist the customers in achieving their original goal – finding the appropriate products quickly?
Importance of make/model/year of the vehicle in your automotive website design
Do you know how in brick&mortar stores you just tell the clerk your VIN number or make, model & year combination? Well, without inventing the wheel, the same principle can easily be transferred to an eCommerce store. And this is, by far, the best tool for achieving this goal.
Just like in a brick & mortar store, customers should be able to easily narrow down the entire product catalog based on their make, model & year combination, to only products that will fit their ride, as these are the parts they are interested in.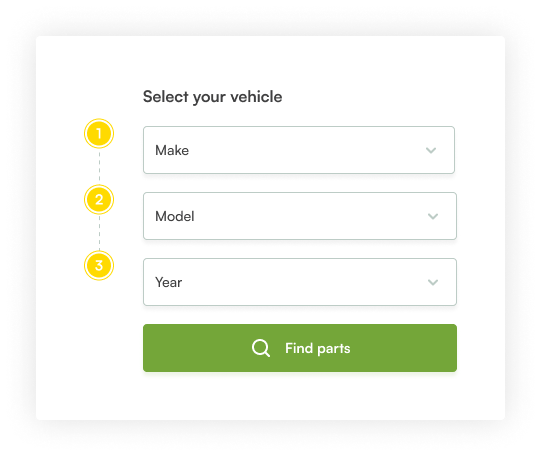 Make Model Year ExampleLots of times you'll see product titles containing the make, model & year combination. While this may be good for an SEO or search strategy, it places lots of repeating clutter on the catalog and search pages that result in mess causing both scanability and readability issues.
On a pre-filtered list, this clutter is not necessary, as the products are already pre-filtered by the make, model & year configuration. All that's left is to find that engine block gasket, just by focusing your eyes on every "gasket" keyword, without trying to tell apart different makes and models in the product title.
Since there's no telling where the customer will actually land on the site (this can be pretty much anywhere on the site – homepage, product page, about us page…) such a feature should be made available globally, and not just some content placed prominently on the homepage. Whether a part of the global header, navigation, or any other repeating pattern in the same place in different page types, it's important to make it easily discoverable and readily available.
Imagine a customer landing on "Suspension parts" with thousands of – suspension parts and trying to eyeball the necessary part. Without proper filtration, this sale is not happening. Similarly, oftentimes (if not the most) customers will land directly on product pages, especially if they've searched a part by catalog number. You can always offer them a list of vehicles the part will fit, but these lists can be incredibly long because of cross-compatibility with different brands and their models, especially if the part is declared a replacement and not an OEM part.
Again, the fastest way for the customer to confirm the fitment is by giving him the right tool for the job – a fitment validator.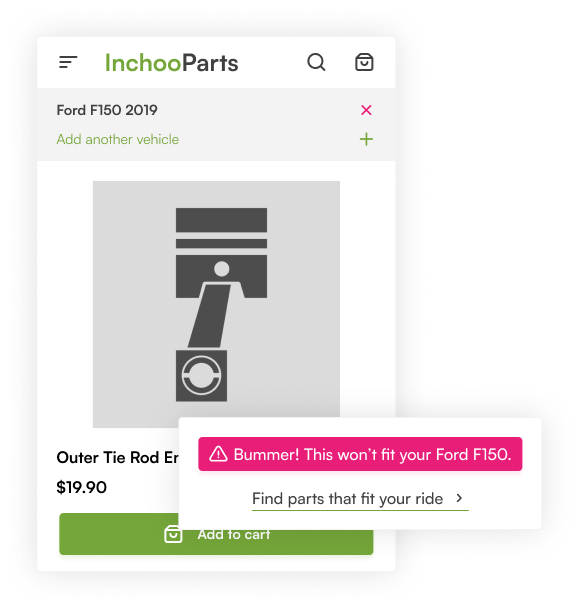 Example of a fitment validatorCustomer can then easily select their vehicle configuration and get a fast and straight response – it either fits, or it doesn't! But wait – if it doesn't fit, the customer will leave! What's to stop him from going to another site? Well – you are.
Just like on 404 pages or zero result search results – don't leave the customer hung out to dry. Offer them the next steps! This can be anything from offering a link to a prefiltered catalog page meant for their vehicle configuration where they can continue their search, or offering to help in search by letting them know they can mail you their ride info so you can source the part for them.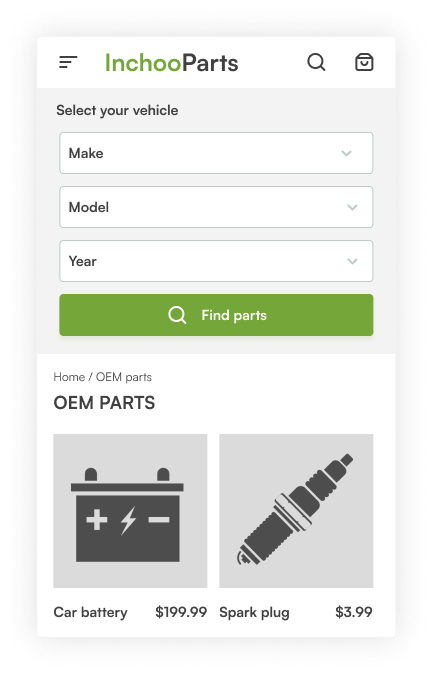 Improve your Make, Model, Year feature
Make, model, year filtering is, no doubt the fastest way for customers to reach the only product that fits their ride, but in reality, sometimes things aren't as smooth as one might imagine. This filtering type is basically selecting a value from the list. Up to a point, this is great and works wonders – open a dropdown, find what you're looking for and you're at the checkout before you know it!
But image such lists with more than 10 values? Sure, one can always press the first letter of their query on the keyboard, but the same can't be done from your mobile phone. This leaves one scrolling, searching, and oftentimes, overshooting the list while doing so.
Admit it, how many times have you been looking for your city in such lists containing hundreds of cities? Oh, what a nightmare. Surely there's something we can do to expedite this tedious task! Luckily – there's not one, but two ways how can help the customer complete their make, model & year configuration much faster!
Let's take a step back and see what's happening here – a customer is searching for something. And how do people usually search for things? By typing a query in the search field. This quickly brings us to the first solution – introduce a search field within the dropdown, and as soon as the customers start to type, filter the list so it becomes shorter and shorter with every letter, making it much easier for customers to find the matching query!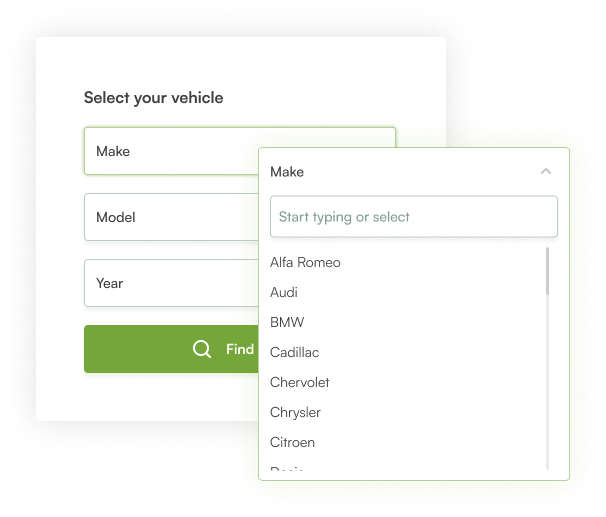 Make Year Model Search FieldNow, you know how, when you trigger a search on an eCommerce site, and some suggestions pop in it? This brings us close to the second solution! If you track user behavior on the site, you'll probably notice some patterns appearing often. If you don't track user behavior on your store, then you're in for a treat, because in the next couple of days we will be preparing a blog post on that subject!
Sooner or later, you'll notice some brands are selected more often than others. Can such information be used in the make, model & year filter?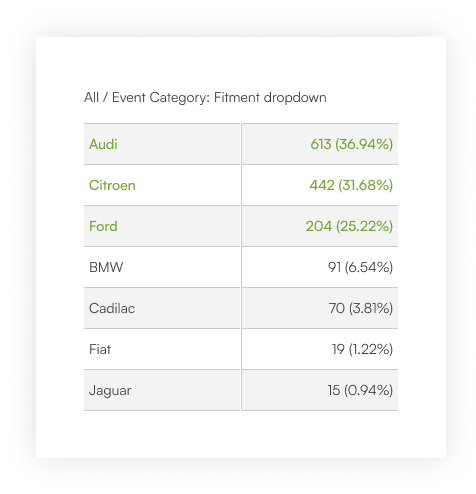 Search PatternsOf course, like the featured recommendation, you can pin those popular brands at the top of the list. However, don't forget to show them again in the "all brands" section. Someone can always ignore pinned items and start scanning the list alphabetically.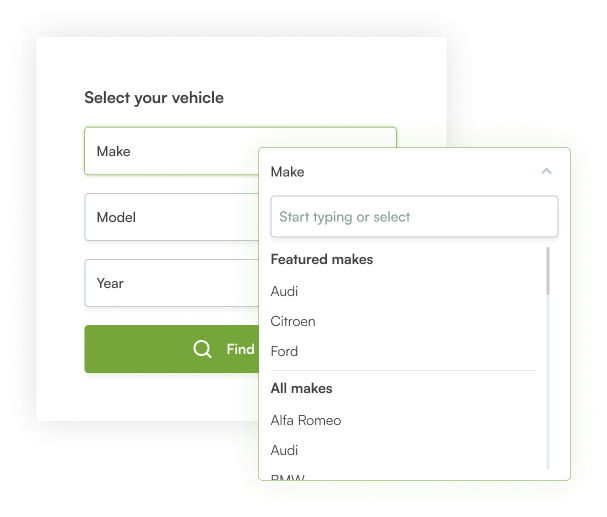 Featured Recommendation
I mean, who would have thought that there will be so much to say and do regarding a such simple solution.
On-site search
Selecting the make, model, and year and jumping straight to the catalog search is the behavior we've often seen while researching how people search for appropriate parts on eCommerce websites. Just like on any other eCommerce website, there's always that customer segment that feels the catalog search will do the job much faster than the main navigation. But in reality, things can get a bit more complicated than simply typing a query and selecting a relevant product.
The catalog search is usually configured in two ways – it either searches the entire catalog ignoring the customer's vehicle configuration, or it includes only products that match the customer's vehicle.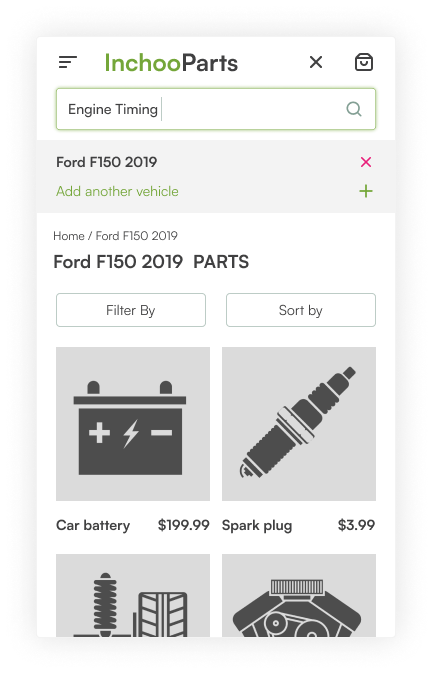 A common-sense approach would say that the first way is definitely wrong. Customers need products that match their particular vehicle, so displaying them products list with products that fit and don't fit really doesn't make sense, as lots of these products are irrelevant to the customer.
But if you think the second way is the winning one, because it only shows products that will fit, making this a list of relevant products – as much as you're right, you're also quite far from the truth.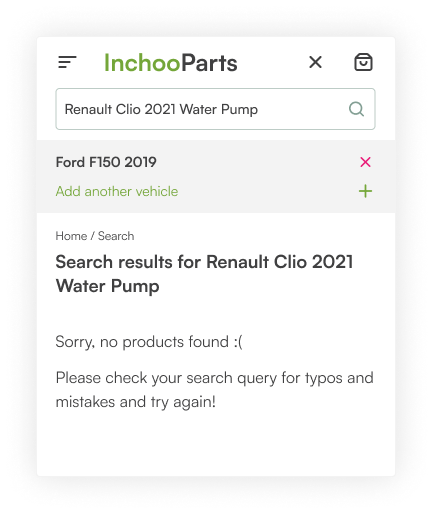 So if both ways of configuring search are wrong, what's the right one? Well, the challenge doesn't lay in how the search is configured, but rather in customers not having the slightest idea what kind of result they can expect! Having it set to search the entire catalog will result in customers clicking lots of parts, and finding out they don't fit on the product pages.
That can be a huge time loss. On the other hand, having it set to display a set of pre-filtered results, may result in customers not finding the part they need, because the search result is pre-filtered. That can be a lost sale. Remember, customers can land anywhere on the site and start the search. If at some point they already visited the site and saved a vehicle configuration, they likely don't know that cookie didn't expire, but they maybe have a new ride!
So how can we tackle this challenge and make the search great again?
Meet the scoped search
Simply put, a scoped search is the search that gives the customer more control of the search, thus tackling the main challenge. Since they are controlling the search – they're quite aware of what results they can expect to see.
Control of what should be searched is placed at the search bar. This easily gives the customers option to choose if they wish to see pre-filtered search results or search the entire catalog. If they change their mind (oh hey, I just remembered my wife wants a new set of speakers for her ride), they can always change the option!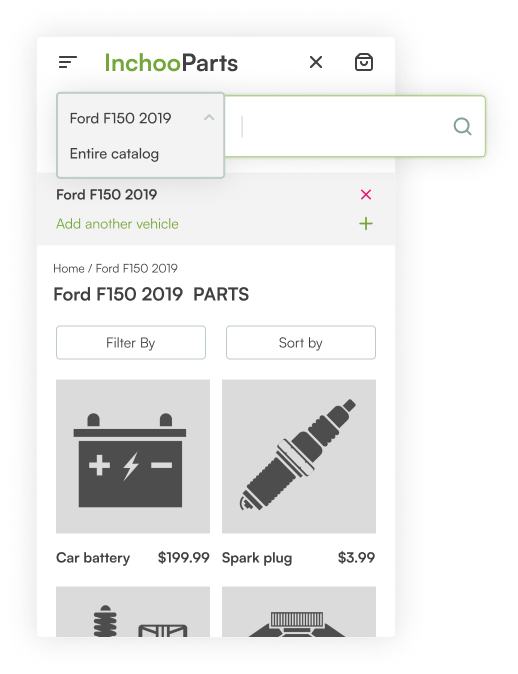 If you check your analytical software, you'll probably notice the customers who search usually convert much better than the ones that browse categories, so investing in a search that can display search results that fulfill customer expectation is definitely a worthy investment.
Handling multiple vehicles with the "My garage" feature
Many families today have more than one vehicle. And not just families – if you live on the land, you probably have a number of machines such as combines, tractors, and other machinery.
Servicing more vehicles means frequent changes to your make, model, and year configuration, and this can be a tedious and time-consuming task for the customer.
Since we already allow catalog display customization by allowing customers to select their ride and save this information, why not offer to save more vehicles to the customer account?

This would allow the customer to quickly change the fitment options and find parts for another vehicle or machinery quickly and easily! Just pick the next ride from your saved list, and you're off to the checkout with your bumpers, and set of brake pads for your grandmother's car!
Apart from the obvious benefit for the customer, such a feature benefits the merchant too. Remember – different configurations will be saved to the customer account, and the customer will need to register. This allows you a variety of upsells to your customers as well as targeted ads, email campaigns, or even fully personalized landing pages! I mean, it does sound like a small price to pay for your login information!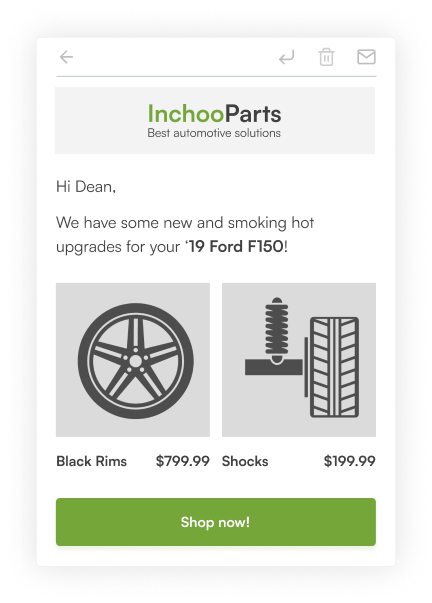 Don't frustrate your visitors
Similar to how a sales clerk from a brick and mortar store asks the vehicle details, an eCommerce site, has to do the same basic thing. Once you have the information about the vehicle, such as make, model & year you can send a query to your database and offer relevant products without mixing them with irrelevant ones! If you have doubts about your store, let us evaluate the usability & UX of your store.
The main purpose of automotive parts website design is to make this entire process as simple as possible for your customers. If your visitors are losing the time to decipher long product titles containing three different models and 7 different years, you already know what's gonna happen. If you feel like you need help with this, reach out to us directly or read more about our internally developed UX features we use to flavor up Magento stores worldwide!
Related Inchoo Services