LabelValue
osCommerce to Magento 2 re-platform with custom solutions to allow for stellar customer support. See how this label manufacturer from Florida took the next step in their eCommerce growth.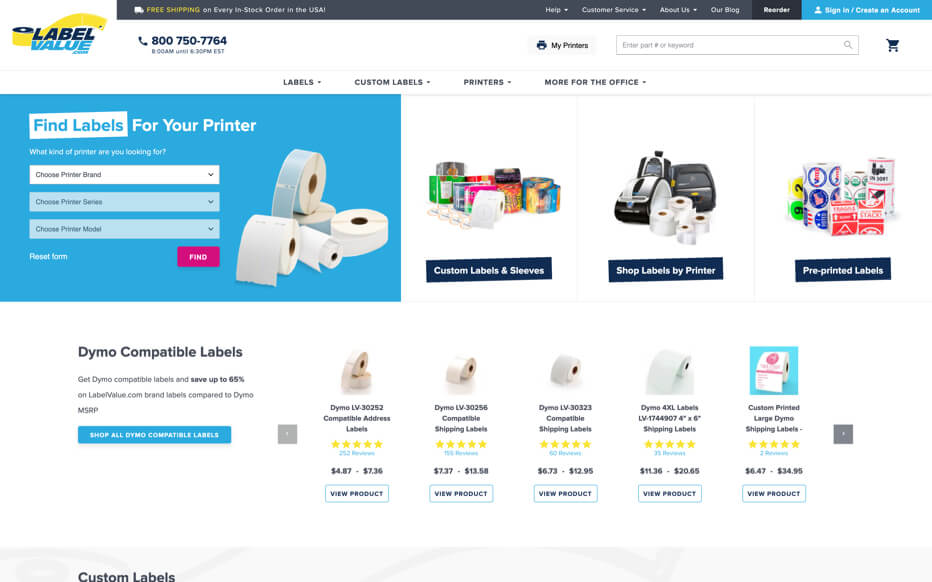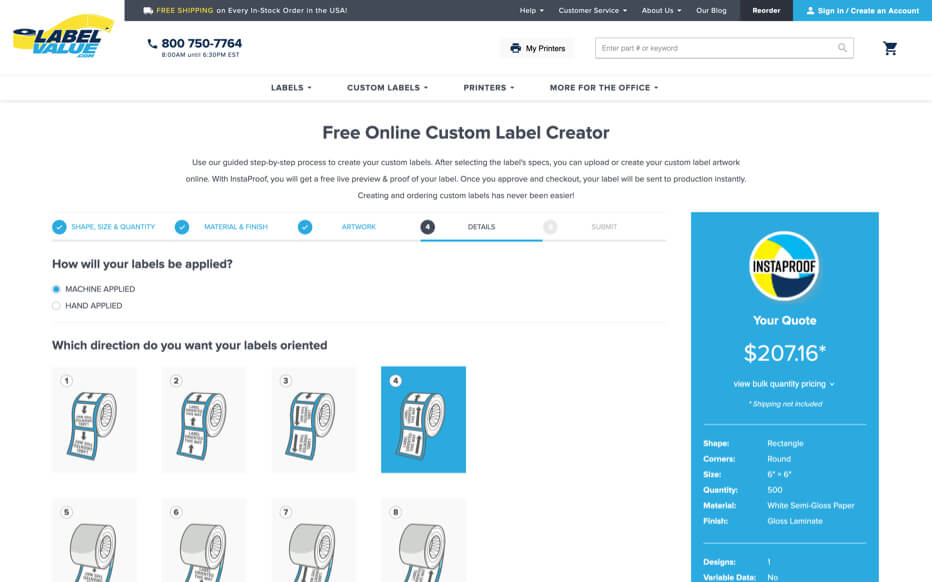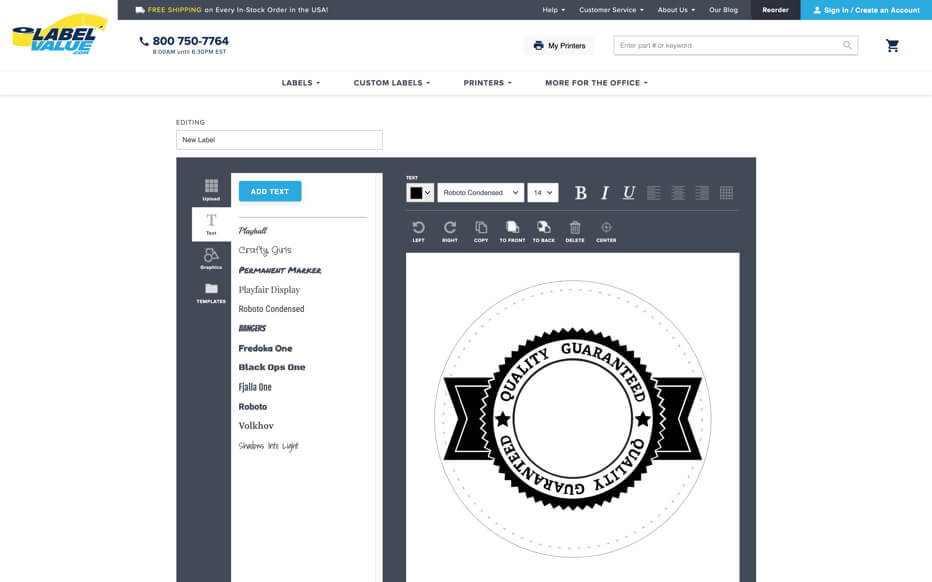 Release date: June 17, 2020
|
Market: USA
|
Industry: Label industry
Visit the website
Profile
LabelValue is a label printing and manufacturing company, offering app. 2,500 labeling products, all manufactured in Tampa, Florida. They are the go-to supplier of over 120,000 customers across dozens of industries throughout the USA.
You can meet the team and learn more about them in the video below:

Inside you'll hear, among other things, "No matter what size company, what size order comes through, we treat them all the same." And this attitude is what brought us closer together. LabelValue is a team with high integrity and values that show in everything they do.
Challenge
LabelValue was running on an osCommerce platform for years before making a decision to take the next step. They opted to go with Magento 2 Commerce Cloud as they wanted to have more flexibility and improve on a number of custom workflows they have envisioned for supporting their customers better.
They also selected us as their Magento Solution Partner – a good choice, we may add.
Some of the key challenges that were in front of us were:
InstaProof – a custom label builder for quick and slick ordering
Custom auto-reorder feature for recurring clients
Overall UX that aimed to complement company values and product quality
Data migration from osCommerce to Magento 2 Commerce Cloud
Integrations with various business systems
Solution
The task before us was clear. We needed to help our client achieve their ambitious goals and stay true to their brand promise. The promise = providing their customers with the best label shopping experience in the world.
Together we planned and delivered a number of customized solutions and workflows that extended Magento well beyond its default capabilities.
Some of these solutions required custom development from scratch. For others, we worked off of similar solutions that were already in place on their osCommerce website. These had to be refactored and further optimized to be integrated into Magento Commerce Cloud.
InstaProof and LabelNinja – custom label creation and ordering
There are plenty of challenges with ordering custom labels, as there are so many little details to take care of. You start with the shape and size of a label, label material and finish, move on to choosing or submitting artwork, colors, and wrap up by proofing the final designs, as well as the test printouts. With the traditional ordering process, the selection alone can take up several days.
LabelValue have streamlined this process with their InstaProof solution – an online tool that guides the customers through the entire label selection and customization process, with each step and option clearly explained.
Check out the video below to see how easy it is, and you may want to order some labels too.
As you can imagine, a lot of work goes into creating such an engine. It needs to take into account so many variations and dependencies around selected options. And those need to be translated into an accurate quote.
To top it all off, we needed to enhance our customer's tracking abilities for all the steps within the InstaProof process. We achieved that with advanced Google Tag Manager implementation by our digital marketing experts.
The final step of the customization process sends the customer to the LabelNinja interface where they can modify the uploaded artwork, add some final touches, and review before hitting that "Place Order" button.
The margin of error is further minimized by LabelValue team sending over the final design application for confirmation before the printers get to work. This way they ensure that their customers will receive exactly the product they want.
UX improvements with the redesign
The overall UX is very simple, straightforward, and serves the main purpose of making the ordering process easy and informative.
The pages are very clear and straight to the point, and you will see some nice touches here and there, to accompany the detail-oriented mindset of LabelValue team.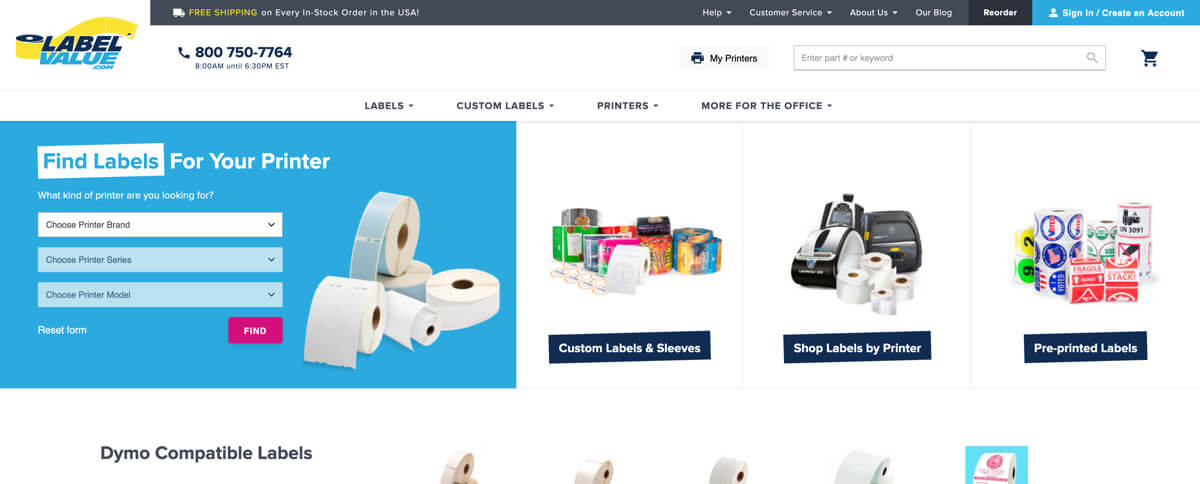 You've seen the smooth label builder experience presented above. The new website also shows a very intuitive printer compatibility feature on the product page. It basically tells a customer what are all the printers a certain product will fit.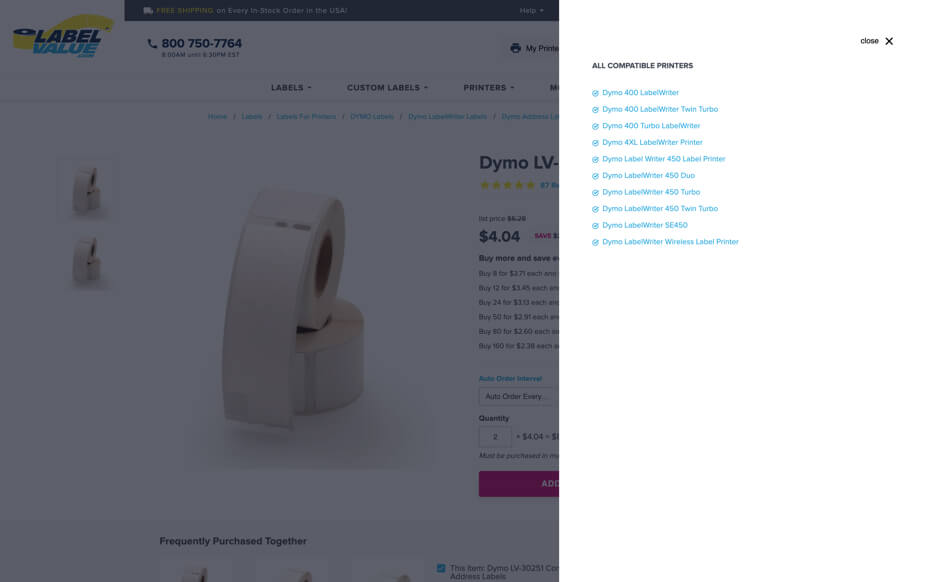 Customers can also find an auto-reorder option on select products, which allows customers to set automated reorder intervals for products they need to purchase on a regular basis.
This feature automates the ordering process and saves customers' time, as well as money (because there's a discount applied to every automated order).
Integrations with various business systems
LabelValue has been in business since 2005, so the good news is, they know digital, and they've tested and used a lot of products and systems over the years. And therein lies the challenge, too. There were a number of integrations with outside systems that had to be done with the move to Magento.
To name a few:
Microsoft Dynamics GP – ERP
Yotpo – customer reviews
Klaviyo – email marketing
Some of these (and many others unnamed) included custom work, and for some we used existing connectors. In most cases, those also needed to be modified to make sure the exact workflows are achieved.
Wherever there was the need to migrate some of the data already present within those systems, that was taken care of. And a lot of testing was involved, from both our and LabelValue side.
Customer support and education go a long way
LabelValue excels at customer support. Many companies can say that, but only a few can really stand behind their words. It all starts with their brand promise that is clearly visible on their website. The highlight is their goal – "to provide you with the best label shopping experience in the world."
This thinking translates to the overall user experience and ease of purchase (as well as timely turnaround times and fast shipping), however, they don't stop there. LabelValue team makes sure to keep their customers informed and educated.
On the website there is a dedicated Learn Center area where website visitors and customers can find articles, videos, news, and other resources to help them master the art and technique of label printing.
In a standalone blog section, step-by-step guides, industry news and company activities are shared in an easy to digest way.
With all of this, LabelValue makes sure to stay true to their promise.
And it's a pleasure to be helping them on their way.
Results
While we're still gathering data to be able to make meaningful comparisons with the previous website's results, the early signals are all positive.
This is what LabelValue's Digital Marketing Manager Josh Dickson had to say about the new website performance:
As far as customer feedback, we've received lots of comments about how much easier it is to navigate the site and order items. More quotes and orders are coming in through the custom label feature, and Inchoo has enhanced our ability to track those customers.

The aesthetics also look much better than before — more professional and modern. All in all, in the early going, it seems like we're definitely moving in the right direction.
You can check out this client's review of our work on Clutch here.