Switch Hits
Migration to Magento 2 with improved UX/UI and custom grouped products solution gets this switchplates business back on track.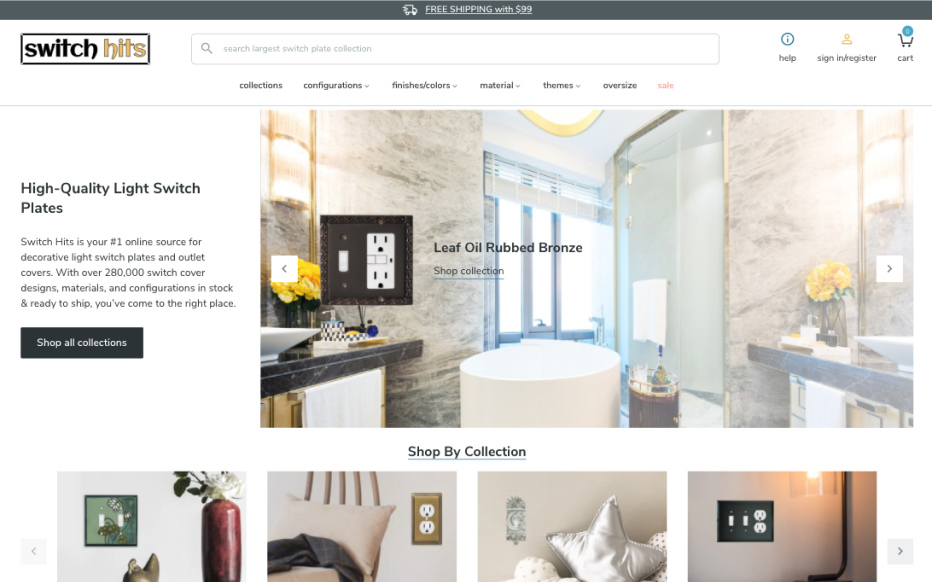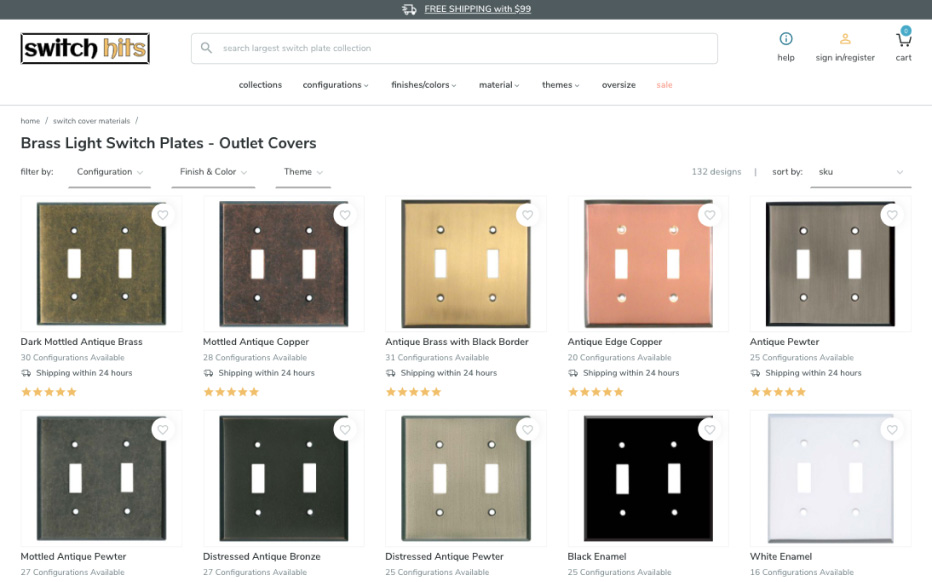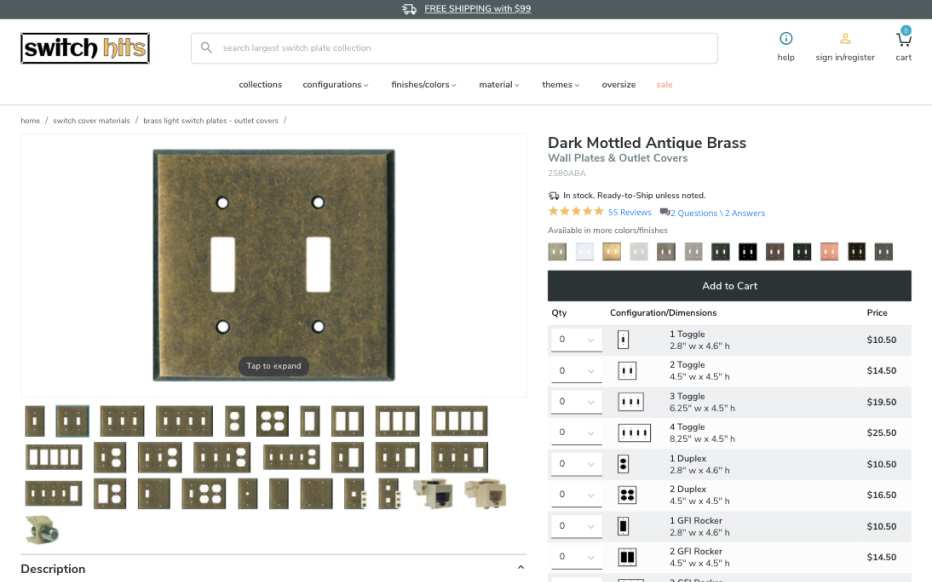 Release date: November 23, 2021
|
Market: USA, Canada
|
Industry: Electrical
Visit the website
Client profile
Switch Hits is the #1 online source for decorative light switch plates and outlet covers. They hold the world's largest selection of unique, handmade, 'Oh, WOW!' light switchplates. Based out of Buffalo, NY, they have been serving US and international customers since 1997.
The owner, James (Jimmy) Hilburger has a fond affection for Croatia. This comes from his previous lifetime and career as a Road Manager for Croatian National Ballet back in the 80s. And that fun fact played a part in us gaining the initial trust.
We started working together on improving their SEO and PPC performance. The goal was to get the eCommerce business back on track after organic traffic and sales have seen a decline in the previous several years.
After the initial engagement, we started making plans for the migration to Magento 2. Switch Hits were stuck with a very customized and difficult-to-maintain Magento 1 build. So, we wanted to help them take full advantage of some of the opportunities we have identified. This meant we needed to get rid of the old setup that's been holding them back.
Challenge with grouped products
The main challenge with the project was to keep and/or improve some of the customizations on the existing website. Switch Hits had some specific ways of presenting the grouped products that hold all the simple ones (with different configurations) on the same product page layout.
The project of building a new website on Magento 2 also included a UX/UI redesign. We wanted to make it easier for customers to find their way around the product lines and various options that are niche-specific.
Helping customers find the right products
Switchplates are not an easy item to shop for. They come in a wide variety of materials, finishes, and configurations. Do you know the difference between a Toggle and a Rocker switch?
Many homeowners or decorators need to handle various combinations of switches, some also including duplex outlets. And sometimes you need to hide a hole that was cut too large by an electrician or a drywaller.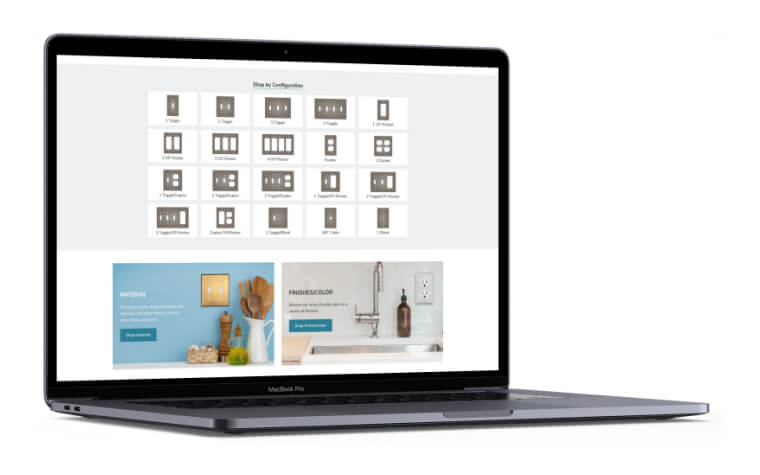 The challenge here is to present all the variations and options in a clear and digestible way, allowing the customer to purchase all the products needed from a single interface.
At the same time, as a store owner, you want your customers to land on the exact configuration they have been searching for. And the products are presented as a grouped product that doesn't offer this functionality out of the box. So, another challenge was to create an improved solution, compared to the existing and default flows, while maintaining the upgradability of the solution.
On top of all of the improvements that needed to be made, we were also faced with the data migration for a store that has been live since 1997, with 4 different makeovers and platforms being used over that time. Categories, products, customers, orders, data used by 3rd party systems – whatever you can think of, needed to be migrated.
Solution
Our first-hand experience on the store from our digital marketing team, who have managed our client's organic and advertising efforts before this project, has been invaluable to the planning process.
With the understanding of the client's business and their customers' habits, we were able to prepare a solid proposal of the new architecture. We combined the desire to adhere to code quality standards, and the desire to equip both us and our client with a solution that will help them improve their marketing performance even more.
New UX/UI with improved frontend performance
This has all been translated to the proposal of the new UX/UI, with special emphasis on the mobile experience, in particular in the performance optimization, keeping a close eye on the Core Web Vitals as the reference point.
To help us achieve a well-performing frontend for the new Switch Hits website, we have used our own bootstrap framework for Magento theming, with the codename Medellin. It is essentially a theme framework that strips Magento from all the unnecessary baggage. We are able to do faster and cleaner custom theme development as a result. More on our efforts in standardizing Magento frontend development can be found in this article.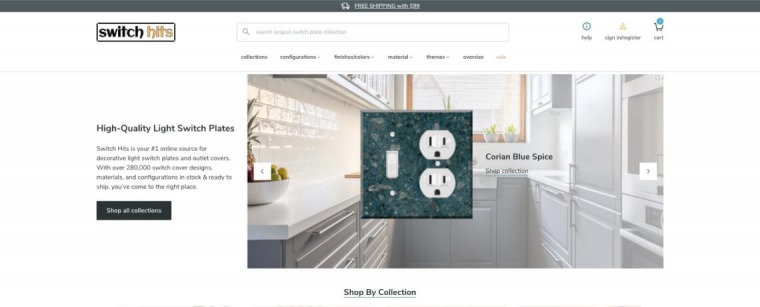 Complex needs don't always require complicated solutions
For many project requirements, we adopted simpler approaches, to avoid over-customizing the solution. Because that would make it more difficult to maintain the website in the future.
For the most part, we have tried to stay within the boundaries of standard Magento features and workflows. And then we gradually added complexity in certain areas. Before that, we made sure all such decisions will bring real value to the client.
Once we have made the decisions on the overall UX and the informational architecture, we ensured the data was properly mapped and migrated to where it needed to be on the new solution.
Keeping the simple product selection on the grouped product layout
One of our solutions was to highlight the simple product in the previously selected configuration. Customers will see the highlighted option once they land on the grouped product page.
The grouped product page still holds all the available variations, and the customer can choose as many options as they want to add to the cart. However, as the customer is shown their initial selection highlighted, that will help them stay on the page and ease their path to purchase.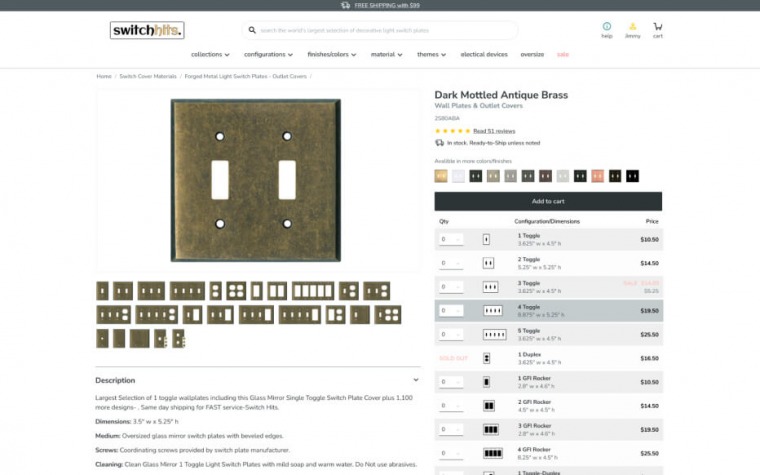 Magento 2 features list
Every client is using some 3rd party systems to add functionality or match their business workflows better. And in every migration project, we pay special attention to keeping only those that make sense. During this project, we completed a number of integrations and migrated data from previously used systems. Some of the most important integrations are listed below.
Stone Edge Order Manager
We needed to integrate this ERP system to import orders from Magento, synchronize stock levels, and send status updates from Stone Edge back to Magento in real-time.
M2E PRO
In addition to ERP, this was the most important integration for our client. M2E PRO allows Switch Hits to sell its products through other channels outside the online store (Amazon, Walmart and eBay). Luckily, M2E PRO has been around for quite some time, and they have a fine-tuned migration process explained for merchants and agencies alike. Of course, tweaks are always needed in this type of process, but our team handled those with poise.
Yotpo reviews
Switch Hits have used Yotpo to power product reviews on the previous website. So, we needed to make sure that the reviews are properly migrated and shown where they need to be.
Blog by AheadWorks
AheadWorks blog extension is installed to power the content marketing efforts by the Switch Hits team. We needed to make sure all the posts are properly migrated and allowed for an improved copywriting experience for the client.
Klaviyo for email marketing
Newsletter subscribers sync from the Magento store, allowing the client to send targeted email campaigns from Klaviyo.
Inchoo-specific solutions
We are using some of the proven solutions that allow our clients to improve their tracking, SEO, and/or other areas. We have developed these solutions as a collaborative effort by our digital marketing and development teams.
Inchoo's GTM extension for advanced tracking and reporting
With our implementation of Google Tag Manager, we provide a wide variety of tags and variables we can track to collect various information. We can use this information to understand the customers better and improve our clients' marketing and sales strategy. And since our digital marketing team has already been managing Switch Hits' SEO and PPC efforts, we will bring this to a completely new level moving forward.
Inchoo's SEO Magento Module
We use our toolkit in combination with Amasty's Improved Layered Navigation. This allows us an advanced technical SEO setup for our clients. With this toolkit, merchants can create additional rules for categories' and products' metadata. This solution also expands the ability to target long-tail keywords, adds custom pages to sitemap as well as allows for additional indexing options. All of this leads to improved organic traffic to an online store.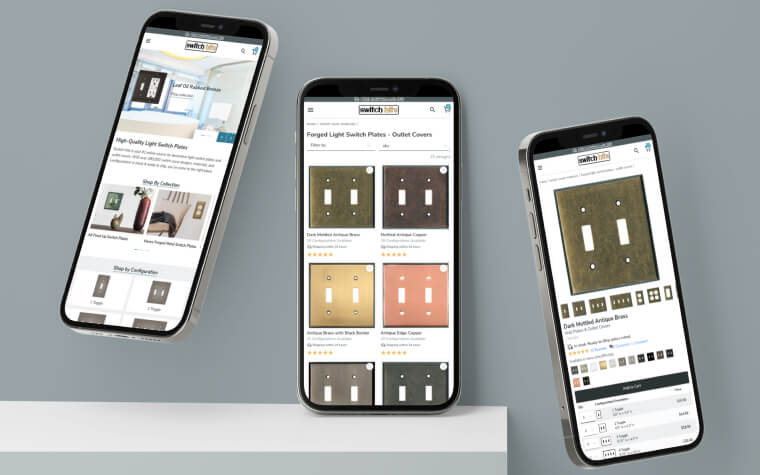 What's next for Switch Hits?
After the launch, we are keeping a close eye on the user behavior and the results achieved. We continue using all the regular tools (Analytics, Google Search Console, Hotjar), and others, to continue optimizing the UX and business workflows.
The new setup will allow us and our client to:
get timely reports on their KPIs
make quicker decisions based on more accurate data
be faster with new feature rollouts
manage our SEO and PPC efforts more efficiently
Want to see how we can help you solve some of your challenges? Let's get in touch! We'll get back to you as soon as possible to start the conversation!