Running IE6, IE7 and IE8 standalone

If you are looking for an easy solution for running multiple IEs (IE6 standalone, IE7 standalone and IE8 standalone.) or any other popular browsers versions side by side AND all of that right from your browser, check out the Xenocode's page or read on before jumping off.
Update!
Browser sandbox has been moved to this place.
Be patient the first time you use any of the browsers and it will pay off next time it runs 🙂
Quote from their site
The Xenocode Browser Sandbox allows all popular Windows browsers to be run simultaneously, directly from the web. Web designers, system administrators, and other users can now evaluate Internet Explorer 8, 7, and 6, Mozilla Firefox, Apple Safari, Opera, and Google Chrome directly from the web in a risk-free manner. Unlike traditional software applications, Xenocode WebApps do not require any software to be installed and allow multiple application versions to run side-by-side on any version of Windows.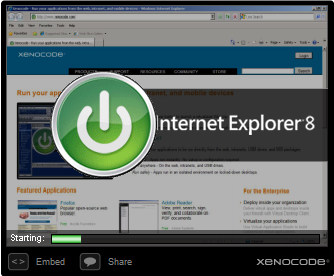 If you want to use them on your desktop it's free to download and use any time.
Upsides:
Fast and lightweight
No installation (online and desktop version)
Multiple browsers
Build your own app/browser
Downsides:
Appart from occasionally Windows exlporer hick-ups…
… no real downsides detected 🙂
Link to xenocode's browsers page: Xenocode
UPDATE: Microsoft Strikes Again!

So, all you can do now is to wait for Microsoft to finish talks with the guys from Spoon and come to their senses.