TeraFlex PLUS, another Magento + WordPress duo

After we launched TeraFlex Suspensions website few months ago, we created a new similar website for Teraflex PLUS. Although the name is similar, this is not the same company. The primary goal of this site is to help Jeep owners to upgrade their pets with parts and accessories for any type of adventure. The secondary goal is to create a Jeep enthusiast community in Utah, USA and surroundings. The site is powered by WordPress and Magento combination.
Magento is a superb Shopping Cart, but it lacks some of the CMS features. WordPress is a superb CMS, but it fails to provide the needs for the eCommerce goals. The combination of these can create a very powerful website. We present you  TeraFlex PLUS : Jeep Adventure Outfitters
http://www.teraflexplus.com/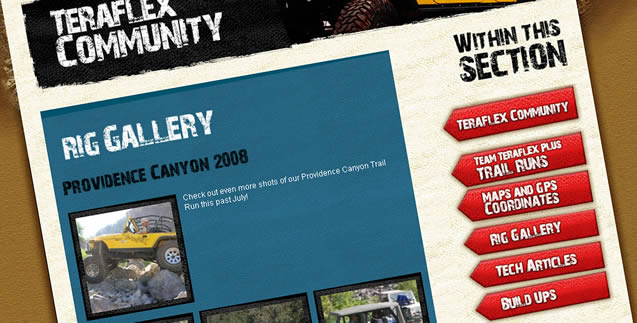 Magento part of the site can be viewed if you click at Shop by Vehicle or Shop by Brand tabs from the main menu, but you will notice that some blocks seamlessly integrate between two solutions.

We developed this site as the Surgeworks team. The design was created by one of out top designers, Rafael Torales. We hope you enjoy it and feel free to post your comments.