How much does an eCommerce site cost?

We have been getting so many questions on how much an online store cost? Let us give you a short overview of all factors influencing online store pricing to clarify things.
First of all, there is no one size fits all solution. So be aware there is no short answer to the question. How come?

In the most general term, prices for eCommerce website development vary depending on:
Size and complexity of your business.
Custom functionalities that you need to support your business.
The platform of choice.
If you are at the beginning of your eCommerce journey, we recommend you check these  47 questions when creating your web store.
Prices for open-source or SaaS eCommerce development
About SaaS Costs
If you are running a simple business (such as a start-up, you are a small business owner or drop shipper), and there is no need for business adjustment or integration with other systems, we recommend you subscribe to the SaaS eCommerce platform.
SaaS is centrally hosted software, paid by monthly subscription, such as Shopify, starting at $29 plus development cost. Read more about the differences between SaaS and open-source platforms here.
SaaS is usually perceived as a low-cost option, ideal for start-ups with limited budgets. However, consider all the costs involved, such as support, payment processing fees, and the cost of additional plugins (this is usually a monthly recurring fee).
About open-source costs
Suppose your online business model is more complex, your eCommerce store needs customization to follow your business processes, and you want scalability and ownership without limitation. An open-source platform will be the solution for you.
Prices for the online store built on open-source eCommerce platforms usually start at $25.000 +. For some platforms, such as Magento open-source, there is no limitation in revenue you can make through your store and you will be charged by payment gateway only. Adobe Commerce edition will charge you depending on your yearly GMV (Gross Merchandise Value).
There are 3 options to move forward with:
1. Hire a Freelance Developer.
By hiring freelancers to create your web store, you can get more competitive development costs. The reason is that a freelancer doesn't have to pay for office rent or other overheads. But be aware you are losing the multidisciplinary knowledge, like workflow, management, and development processes that are complete, and you can have those with hiring an eCommerce agency. At the same time, developers who are working remotely can leave you at any time. We recommend this option only if you have previous experience managing freelance teams and have a good background in technical knowledge. Hourly rates for store development vary from $20/hr to $150/hr, depending on their expertise, and the region they are coming from.
2. Hire an eCommerce Agency.
Global average hourly rates for store development vary from $30/hr to $200/hr – and again, this depends on the agency's professional experience, quality, competence, and even location. With the agency, you can build a long-term relationship and they will provide you with more security around operational and business continuance.
3. Employ an in-house development team.
In-house-development teams are the option for larger businesses that can build their development departments. This option is the most expensive one due to the additional cost of investing in hardware, running the entire office, and recruiting processes.
Range of prices for open-source eCommerce online store: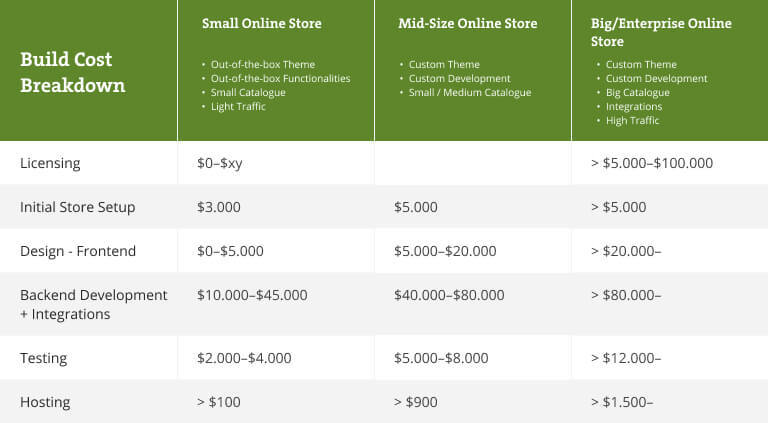 So let's break it down on what kind of features you can expect in each group depending on the size of your online business!
Small eCommerce website cost
Magento Open Source is a free edition aimed at small businesses. Be aware that you need to calculate the cost of coding, configuration, and hosting as well.
Essential Magento online store development and set up with out-of-the-box functionalities, free theme, and no integrations can start from $10.000. (NOTE: Magento itself is very rarely used in this situation as an eCommerce platform to go with)
On the other hand, Adobe Commerce is a platform for larger merchants with specific needs, and it covers the additional custom features (B2B module, advanced marketing capabilities, etc.). So, we do not recommend this product if you are a small business due to its complexity and costs. If you are a small merchant, we highly recommend you to look at some SaaS solutions.
Mid-size eCommerce website cost
How can you tell that you fit into a mid-size eCommerce merchant? From a general point of view, you probably have a small to a medium catalog of products. You will require some custom development, and you will not be pleased with a free theme or any other one-size-fit-all themes available on Themeforest. You already have a couple of business systems that automate your eCommerce business, and you will want them to communicate with the eCommerce platform.
Starting price for a mid-size eCommerce website is around $55.000.
Mid-size eCommerce businesses will use most of the out-of-the-box Magento features, but there is a big chance something will not be plug-and-play for your business.
For instance, one of our clients couldn't make use of any of Magento's default 6 product types, so we created a custom product type that is specific for the furniture retail, for their modular products. It is similar to the configurable product type, one of Magento's 6 default product types, only it adds the possibility to configure the product not just by attributes, but also by components or modules. How do these custom-type products work? For example, When choosing a corner sofa, the customer can adapt it to their interior by excluding certain modules. As with default configurable products, customers can configure modular products by attributes such as color and material as well.
One more example of a custom-developed advanced feature is the one we did on the EuropaParts.com project, the Year-Make-Model filter. Our client approached us with one big pain: very limited filtering and search options. With thousands of car models and millions of aftermarket and OEM parts out there, creating a smooth eCommerce experience that simplifies the path to purchase for your customers is challenging.
So why is this feature a must if you are an automotive merchant? It allows your customers looking for parts and accessories for their vehicles to be shown only those made for or fit their ride. The filter is robust and can be further customized or expanded on, and it enables the customer to drill down to even the most specific attributes in a couple of clicks.
In addition to custom development features, many of these mid-size projects have some specific integrations, for example, integration between Magento 2 and some ERP solutions, such as Microsoft Dynamics NAV (today known as Business Central), and many other, perhaps less known ERP's.
Big/Enterprise eCommerce website cost
Suppose you are a merchant with a large product catalog and higher traffic that the website needs to support. You may also need integrations with the various business systems, detailed SEO and UX research, and a lot of custom development; then you can fit into this group.
The price for a more complex online store with advanced features starts from $125.000.
Some enterprise eCommerce website projects required custom development from scratch or extending Magento well beyond its default capabilities. For example, if you're in the printer & label business, you know there are a million products that are correlated with each other. For your customers, a very intuitive printer compatibility feature on the product page will help them to easily find products that will exactly match their printer.
Or for instance, if you need a reversed standard buying process on your Magento store, which gives your users the possibility to sell their used equipment to you – from your web store, this is something that would definitely fit into a more complex solution on Magento. The "Sell" application works in a way that users find the gear they want to sell, determine its condition and share what is included along with this item. After filling in all the information, the user receives instructions for packaging and payment. Our frontend team did a great job creating the Sell Shop app on Magento 2, and it's developed in React.
Do you need support on your eCommerce journey?
According to W3Techs, Magento powers 0.7% of the internet, and among the top 10K web stores, Magento has a share of 16%. Also, Magento online stores grow 3x faster than others.
Starting an online business requires planning, budget, and a good team. The Inchoo team takes pride in developing long-term relations with our clients, following them on their online journey, and helping out in bringing online ideas to success.
If you opt for the open-source eCommerce Platform, contact us to see how we can support you on your eCommerce journey!
Related Inchoo Services