Will it Fit? Must Have Features for Automotive eCommerce

If you've landed on this blog post, you're probably wondering what are the must-have features to run a successful eCommerce store in the automotive industry. One of the biggest UX challenges for automotive aftermarket businesses selling online is to show their customers auto parts that will fit their vehicles. With thousands of car models and millions of aftermarket and OEM parts out there, how can you create a slick eCommerce experience that will ease the path to purchase?
Read on to see the best practices and some solutions for the businesses in this industry.
The Compatibility Challenge
Car parts compatibility has been one of the pain points for merchants trying to sell spare and replacement parts online. There are some parts that fit only a specific model of the vehicle, manufactured only in a particular year.
And then, there are parts that fit a number of vehicles of different makes and models across the globe.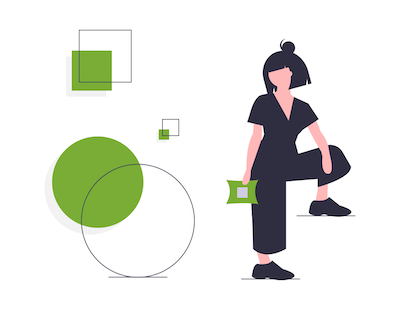 If you're an aftermarket parts distributor, having that champion on the team who knows their way around cars and car parts, is an invaluable asset. Your customers will come back because they can get quality guidance and a piece of advice (maybe a joke or two on the side).
But, how can you translate that experience to online customers?
Get the right database
First off, you need to get access to proper databases. You probably already know everything about ACES and PIES, and you may have your hands on some offline digital catalogs as well. However, the key is to have a solution that is updated, accurate and that you, ideally, don't need to worry about the basics.
You can check this post where we cover the industry standards and databases in greater detail.
Make the navigation and filtering easier
Ok, so now that you have the databases that know exactly what parts fit what vehicle(s), how can you present this information accurately and efficiently to your online visitors? Challenge accepted.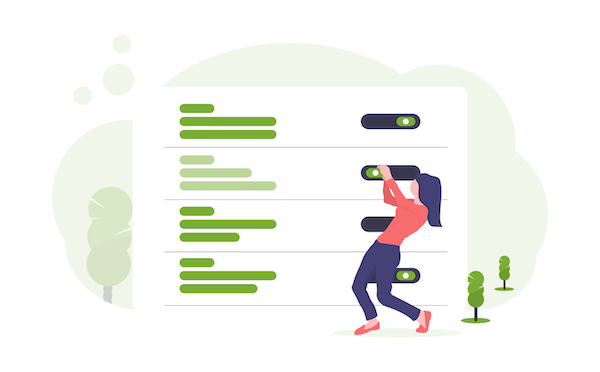 Year-Make-Model is the most common term for addressing the parts fitment logic. Usually, and this is typical for the US market, people would refer to their cars as "1983 Pontiac Firebird", starting with the year.
That is conversational, while typically, when looking for parts online, people would usually look for their make (Pontiac), followed by the model (Firebird) and then the year (1983). So, a more usual representation of filtering on a car parts website would be Make-Model-Year.
Change until you get it right
And this is subject to change, you can and should organize the filters on the website based on how your customers are searching for their parts.
One example from our experience is the agricultural equipment parts dealer Sloanex and their website where we modified the original filtering logic.
The initial thinking was that the customers are likely to start their path to purchase by selecting a product category (tractor parts), and then move on to the make and model.
However, the data has shown that customers are usually starting their search with the brand/make (in this case, mostly John Deere) and then narrowing down with part category and/or more details about the product they need.
So, our filters were reordered, and now fit the customer behavior better (Make – Model – Machinery Parts).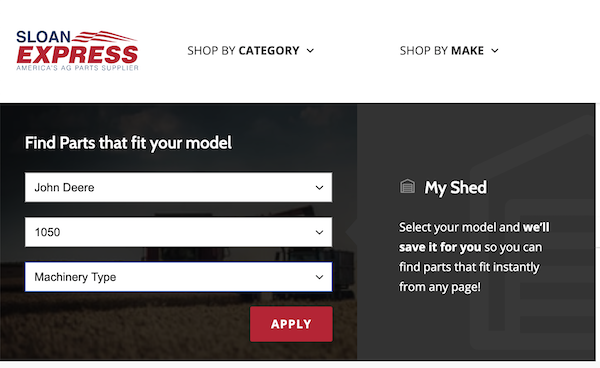 The same goes for your own stores – you can start with a good Year-Make-Model filter, but don't be afraid to change that if it will make lives easier for your customers.
Also, you will, in most cases, need to add extra filters to your selection. Year-Make-Model may not be sufficient, you need to add additional attributes, depending on the depth of your catalog. Body, Trim, and others quickly come to mind.
How to select the right solution?
There are various eCommerce platforms that offer solutions to fit the needs of the automotive market. And some proprietary and very focused solutions aimed at this particular niche handle this piece for you.
However, chances are you will go for an open-source or a SaaS platform and you will have to use some type of an extension or a plugin to present all these options in a user-friendly and digestible way.
One such solution we use on our Magento projects is Product Parts Finder by Amasty. Usually, we need to modify it to match the exact needs of our clients and their customers, but it is a great start if you're working on Magento.
One of the examples where we went with the abovementioned solution, would be our project Europa Parts. Not only does this filter include Make, Model, and Year, but it also extends the filtering by the Submodel, Engine, and Transmission.
Talk about filtering the right part down straight from the homepage to the several products on category page, or to a specific product page.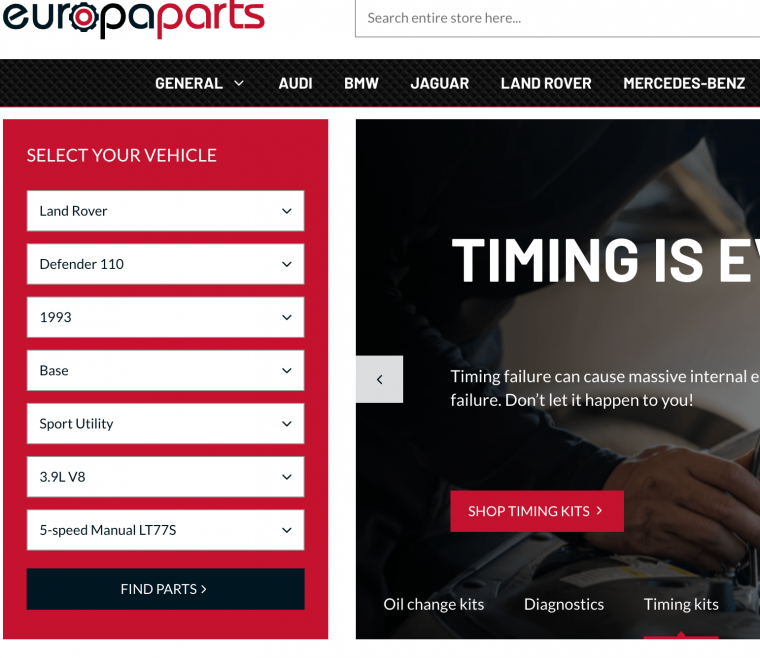 On Magento Marketplace you can find similar solutions, and there is plenty of those available.
You can find extensions/plugins for other platforms by using the following queries while searching, next to the name of the platform:
year make model
vehicle fits
parts fitment
parts finder
Extra perk – My Garage functionality
If you've already given the opportunity for your customers to select their vehicle type, you should also make it stick. What does that mean? Well, you should allow them to keep the selection in their account. This way, the website will show them only those parts from your catalog that will fit their vehicle.
There are also options to allow the customers to pre-select several vehicles and then toggle between them when browsing. This is, in particular, useful for your B2B buyers and families than own multiple vehicles.
Some of the extensions/plugins listed above offer this option at its very basic. And usually, you will need some custom development on top of it. But, it is worth it, especially if it will mean that you'll ease the path to purchase for your customers. That way, they will keep coming back to your website.
Parts diagrams feature – help them see!
The filters are great in narrowing down the search based on your vehicle attributes. However, how do you approach those customers that don't really know what the part they need looks like? There are other parts that are similar, so how to tell the difference? Can you show them where these parts are in the vehicle?
Of course, you can, and you should! People are visual creatures, and we can truly experience our environment by using several senses rather than just one. Visual aids are very important in any eCommerce experience.
Even the best of the best mechanics and car enthusiasts can get lost in the hundreds of thousands of different parts. Often they won't know their exact names or numbers. So, why not show them a part of the engine or a front-wheel-drive? This will make it easier for them to match the needed part with your catalog.
How is it done? In Magento, you would typically create a custom product type, similar to a grouped product. Because of all possible associations between fitments, you often can't use the grouped product as is. And on these diagrams, you would add all the products shown in the picture. Take a look at this example from another project of ours.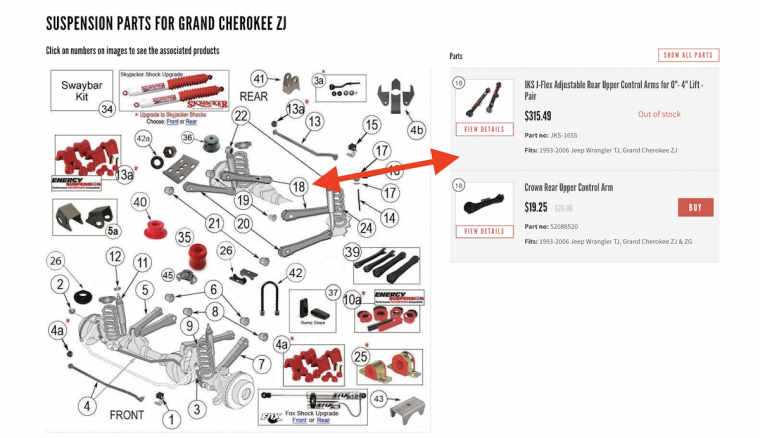 Once you select a part from the interactive picture, the page will show you that particular part with product details.
And you can see more examples of parts diagrams on this website. It is a very nice and clean way to present the parts to those that don't know the exact name or part number. Or to those who like to confirm that the selected part is the right one for their vehicle.
Why are these automotive features a must-have on an eCommerce solution?
You will likely achieve the following benefits by using the right solutions for parts fitment and parts diagrams tools:
engaging and easy to use
faster path to purchase
easier cross-selling
minimizing returns
fewer customer service phone calls
So, you should keep an eye on improving your website user experience at all times. If you need some assistance from us in customizing the workflows or analyzing your overall website UX, we're only a contact form away. Let's talk!
Want more useful content like this? Download our FREE automotive aftermarket eCommerce success guide!
You've seen some examples of the features that can help you when creating or improving your website. And if you want to get a bigger picture of what it takes to create and manage a successful automotive aftermarket eCommerce website, you can start right here.
We've gathered our experience and industry knowledge gained over the years of working with merchants in the automotive aftermarket business. And now, we have prepared a useful guide to help you steer your way to success.
Feel free to download our Automotive Aftermarket eCommerce Success Guide to get started!
Related Inchoo Services