Morris 4×4 Center
Morris 4x4 Center is not only a product destination, but also a content destination for off-road enthusiasts. See how media focused responsive design with great information architecture is now more intuitive to use.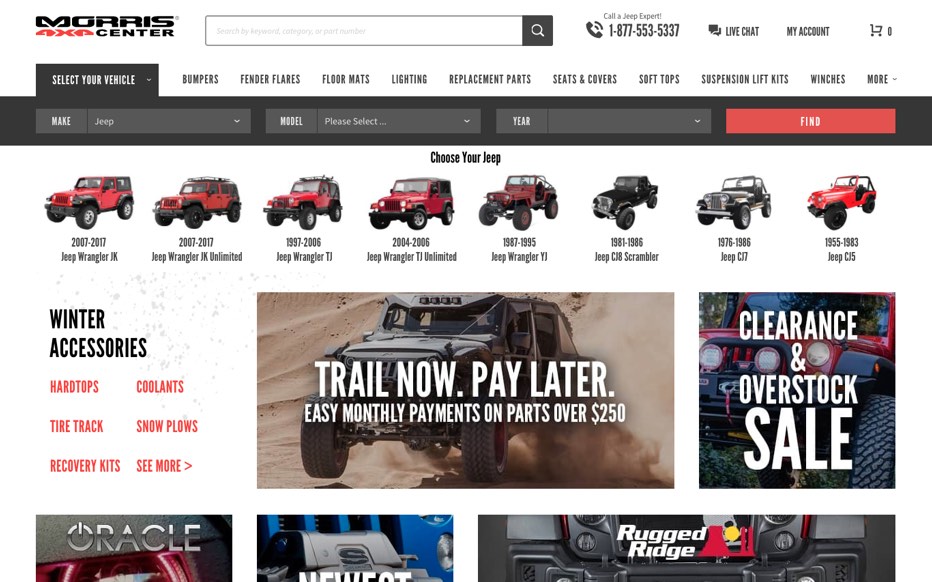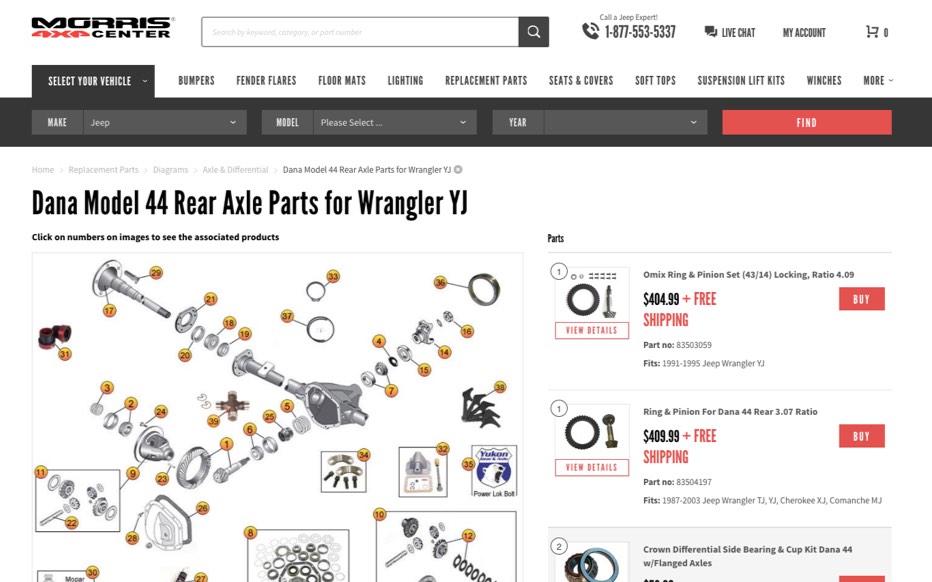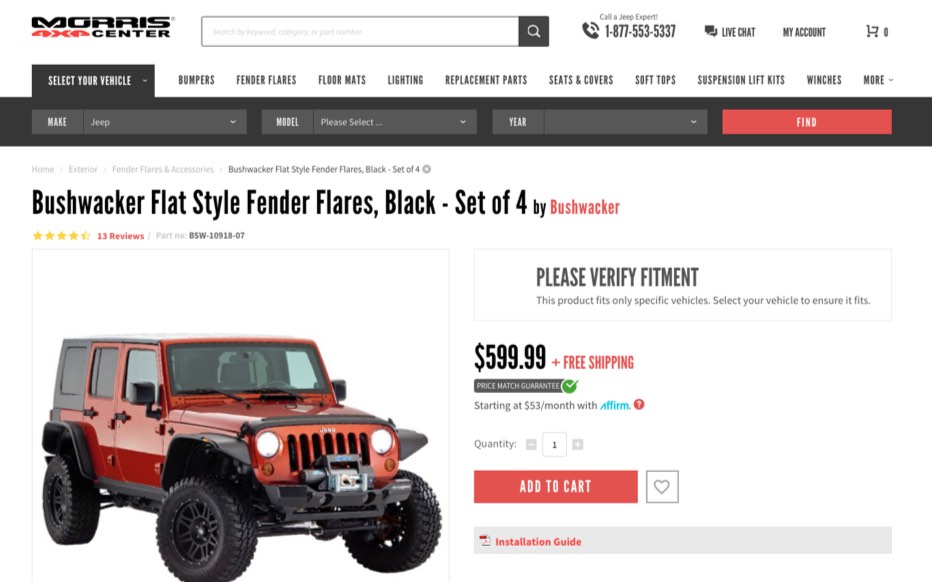 Release date: April 05, 2017
|
Market: Worldwide
|
Industry: Automotive
Visit the website
Profile
Morris 4×4 Center
is a leading eCommerce destination for Jeep and 4×4 enthusiasts looking to outfit and enhance their vehicles. It provides more than 40,000 products across top brands, with passionate experts and a commitment to great customer experience. Having fulfilled over a million orders in just over 25 years, Morris 4×4 Center's passionate experts, superior customer service team, and new customer-centric initiatives are poised to better serve and help Jeep and off-road outdoor enthusiast fulfil their dream of a great driving experience.
Challenge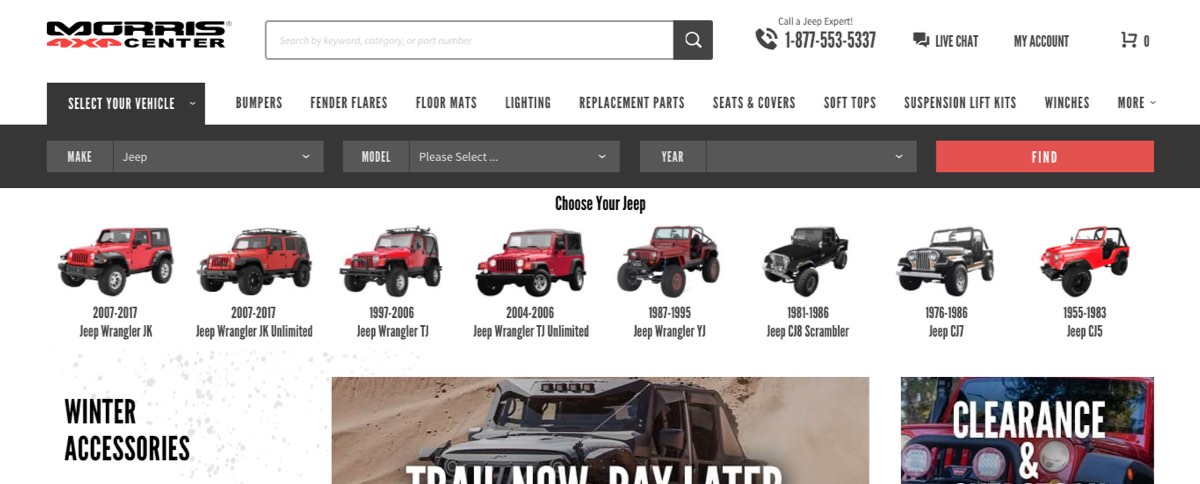 The client was looking for a partner to help them address and solve website stability issues. Much of the problems stemmed from an outdated ecommerce platform. The business had outgrown the platform capabilities and could not rapidly implement changes to scale the business further. We proved our expertise by solving technical issues, which then expanded our cooperation through service of
complete Technical audit for the digital store
. Detailed report on the findings and actionable set of recommendations applied suggested how to speed up and improve store's stability. The technical audit was the pebble that started the avalanche. After our initial engagement, Inchoo was invited to bid on an ecommerce replatform project. Inchoo was chosen as the development partner for this larger project. Our team flew to their HQ outside Miami, FL USA, and sealed the deal that we'll develop a new store in less than 2 months. And we did!
Solution
Planning, as initial phase, was crucial in meeting the deadline. The digital store was originally a hybrid between static site and Magento, that made things even more challenging. We migrated it to Magento Enterprise 1.14.2. that brought stability, architectural control, and almost painless connection to external systems (as ERP, Middleware systems and PIM). Wireframing got us to the point where we saw what elements to enhance visually and keep an eye on when developing them from the technical side. Clean design was a key in displaying complex information architecture in menu and we developed it in collaboration with Prototyp. Special attention was devoted to imagery and media center for how-to videos, which helps in keeping Morris 4×4 Center as a recognizable brand in their industry.
Part Finder module brought even better user flow for visitors to reach specific car model and it's parts. Based on brand/model/year type of selection, it leads to results page that then offers numerous of specific attributes to filter further on.
Diagrams are icing on the cake for finding the exact name and product for replacement car parts the user is looking for. Functioning as a click on picture where customer clicks on number and gets exact name of associated products on shop that match the results. Useful feature for this kind of business, where even mechanics sometimes don't know the exact name of the Jeep part.
Results
Morris 4×4 center is now not only a product destination, but also a content destination for off-road enthusiasts. Media focused responsive design with great information architecture is now more intuitive to use.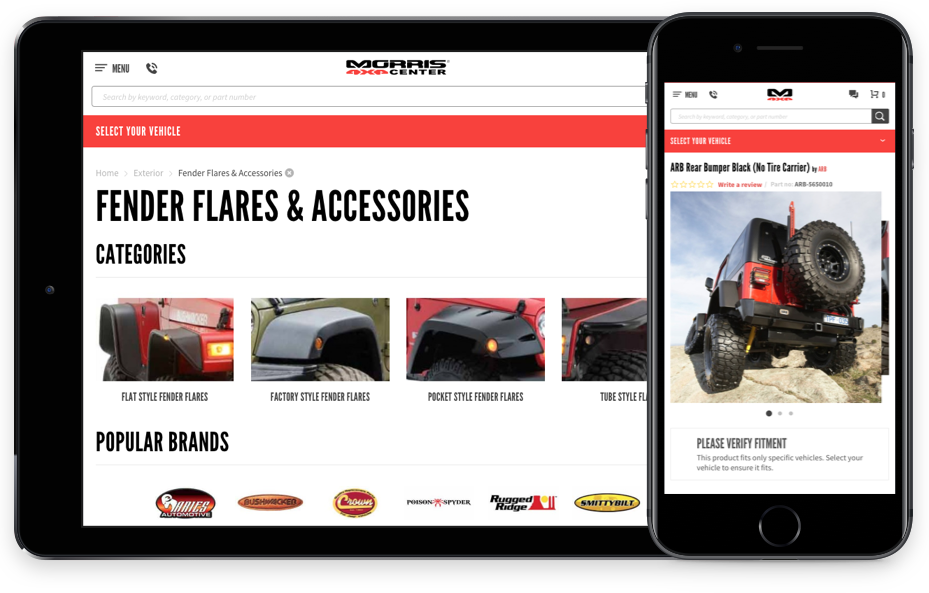 Loyalty program and promotion options give a great value not only to customers but also for owners. With implemented tracking options, it is now easier to analyze site's usage, test numerous promotional options and to make the most of gained information for remarketing purpose.
Visit this page and download our Automotive Aftermarket eCommerce Success Guide to get started.