Atlantic Štark
Custom UX design that carries the (sweet) taste of the Atlantic Štark snacks world.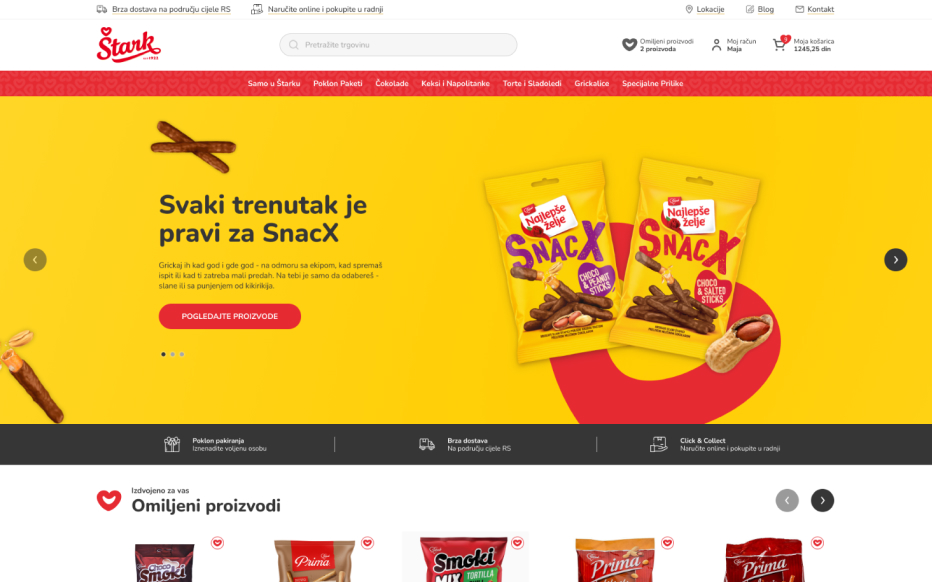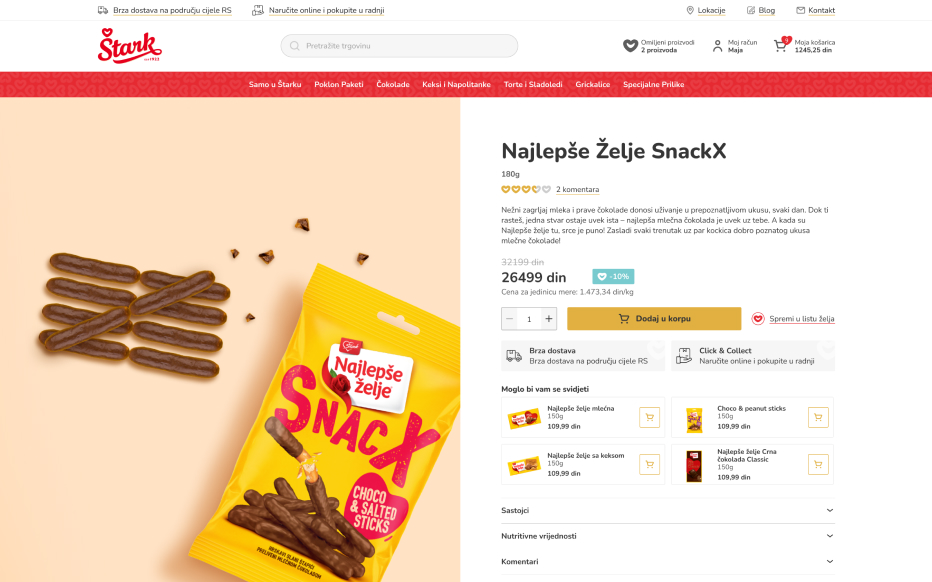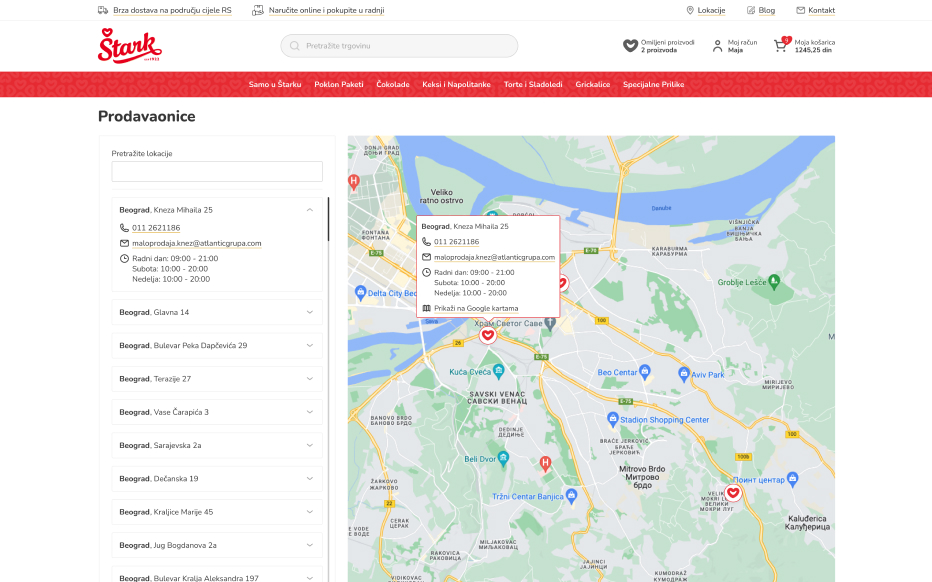 Background story
Štark has a rich history dating back to 1922 and has grown into one of the industry's leaders over the years. The company has produced chocolate delights and snacks for over a hundred years.
In 2022, on their 100th year, they decided to refresh their well-functioning model of selling products in physical stores with a new sales channel – an online store. We happily took over the challenge.We wanted to mark Štark's 100th birthday anniversary with one big project that would align with the company's birthday campaign – for the new 100. The company is entering the new 100 years by taking on modern trends and providing consumers with new products and services. Among the innovations is the ability to shop directly from manufacturers' stores, which we believe ensures consumers a shorter logistics route and always fresh products at a reasonable price.
— Milan Malenčić, Štark Retail Manager
Our team spent a lovely weekend with the client in Novi Sad, Serbia, where we sat down, discussed the business and UX requirements, enjoyed some delicious food, and even had the opportunity to visit one of the client's store locations. Afterward, we got down to business. Months later, we delivered a website on Magento 2 Open Source with a custom UX design.
Putting design into motion
This project gave us the opportunity to play with motion more than usual. We wanted to create a UX design that would resemble customers' happy and cheerful moods while shopping and eating their favorite snacks. For that reason, we used bright colors like red, yellow, and gold that also match the brand's visual identity.
The blog was created using Magefan Magento 2 Blog extension to inform customers about products and recipes, keeping in mind the SEO goals. Secondly, we used one of our modules, a Store Locator, which enables customers to locate Soko Štark's stores on the map. Store Locator provides customers with the address, contact information, working hours, and a link to Google reviews for the chosen location.
In addition, the client wanted wholesale buyers to have purchasing options. We brought them to life. The wholesale prices, however, are visible once the merchant logs in their account.
The project's core functionalities and specifics
The three main integrations are ERP MIS Kasa, delivery company D Express, and Corvus Pay. Regarding the MIS Kasa ERP, we needed to ensure simultaneous communication between the ERP system and web store about products and orders.
Since most businesses have had ERP systems in place for years, developing solutions for integration with web stores can be challenging. After we ensured the communication ran smoothly, we moved on to payment methods. As the client chose Corvus Pay as an Internet Payment Gateway, we integrated it into the client's solution. Customers will be offered four payment options: click & collect, bank transfer, cash on delivery, and card payment. Regarding receiving the receipt, the customer can choose either email or paper within the order.
Our client relied on D Express to ship their orders as one of the two options customers can choose from. Another option is Click & Collect, which lets customers collect their order in one of the 15 physical stores across Serbia. C&C is all set and done and is waiting to be activated.
Tailoring Magento products to the client's needs
One of the project's specifics are custom type of customizable products, no doubt. The client wished to transfer the shopping experience of the physical stores to the website so every customer finds a product combination of their preference. To make it possible, we created three versions of customizable products, along with simple ones.
For us, personalization is an important trend in shopping. We want to allow each consumer to create their personalized gifts. It allows them to create products in their chosen packaging and add messages they create themselves. Likewise, the consumer can choose and combine the content and filling of the gift package he chooses. These are the ways we work in physical stores, and this is something we wanted to offer online as well.
— Milan Malenčić, Štark Retail Manager
The first type of customizable products we created starts with gift packaging for which customers can choose products from various categories. The quantity of the products included in the packaging is limited, but it still enables various options for each category. In the example mentioned below, customers can choose two milk and one dark chocolate, three different chocolate desserts, a note for the box (e.g., Happy Birthday, Love you, etc.), cookies, coffee, and a packaging bow of their choice. Created gift boxes can be customized based on personal preferences, making them a perfect option for presents on various occasions.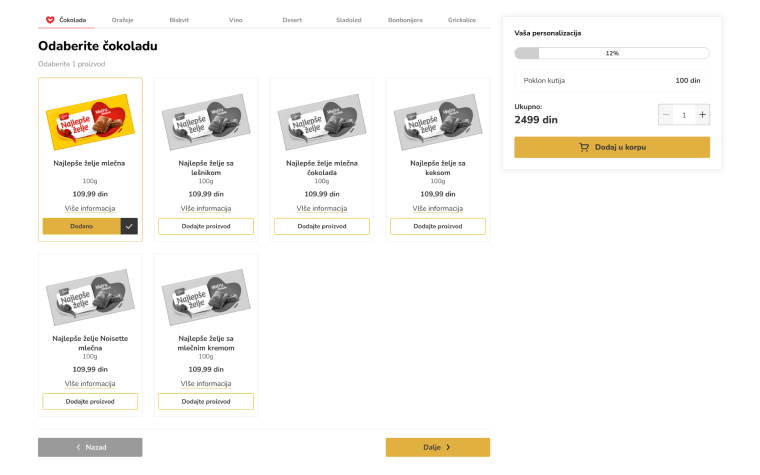 Besides choosing the product of choice for the gift packaging, the client's website offers the contrary product option. Customers who choose one product can choose packaging for it, or if they wish, no packaging at all. Here, offered options are to select packaging for the chosen product – mini chocolates. Options vary based on product weight and packaging.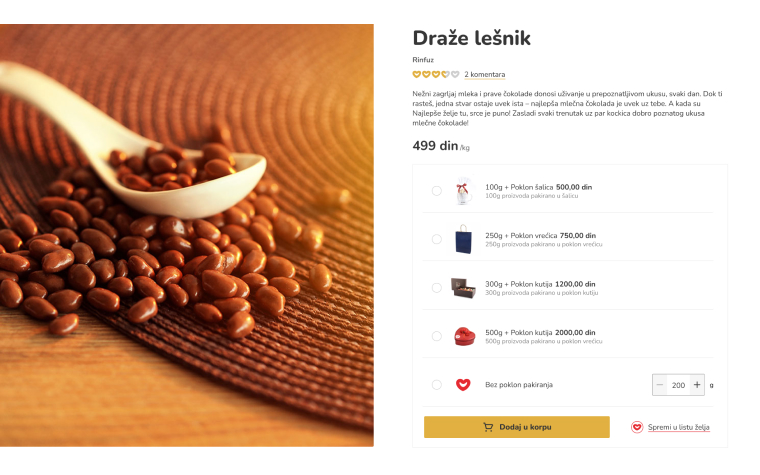 The last type of customizable products are predefined gift boxes. These boxes combine the most common products bought together and are a perfect fit for the quick gift-shopping decision.
Wishing our client the best of luck
The project was successfully launched on March 1, 2023, and this case study sheds light on its outcome. As the client's launching campaign is soon to begin, we wish them the best of luck and many successful years to come.
And if we gave some of your sugar cravings with this sweet case study, we strongly advise you to try some delicious Štark products if found in the opportunity. For those needing help with their project, reach out to us!