Thouqi
Fashion site that not only offers good looks to its customers, but looks great itself and performs even better

Release date: May 02, 2014
|
Market: Middle East
|
Industry: Fashion
Visit the website
Profile
Thouqi is the home of the newest, hottest looks in fashion in the Middle East. With a strong focus on fashion, targeting women between 18-38, their collections bring together the latest high quality fashions tailored to the local tastes of their customers.
Challenge
Client had an idea for a fashion web store that would supply MENA countries with high quality brands, and was looking for a solution partner that could deliver. Since we have had lots of success in past joint projects, they decided to go with us.
We knew that this is a client who likes to take things to a new level. Project was built from the ground up and it required full customization.
These two main requests tested our creativity:
to devise a system that would reduce returns of purchased products to minimum
to allow Thouqi page administrator to manage and easily modify design and page layouts without coding involved
Solution
To first challenge we responded by developing a Measurement System that offers customized shopping and browsing experience for each customer according to their size and preferences. Apparel size, types, brands are fully connected for customer search to fit its needs – it also automatically calculates conversions between different measurement systems (UK, IT, US, FR, JP, RU,…).
Second challenge got its response too as we created Widgentic – a custom feature that allows administrators to easily change page design without needing to know how to code. Now Thouqi can easily change its looks daily.
Big emphasis was on delivering Loyalty program that would reward their customers who, through purchase and other activities on the site, build their way on the loyalty scale and receive rewards as discounts or exclusive access to new items that are not yet available to others.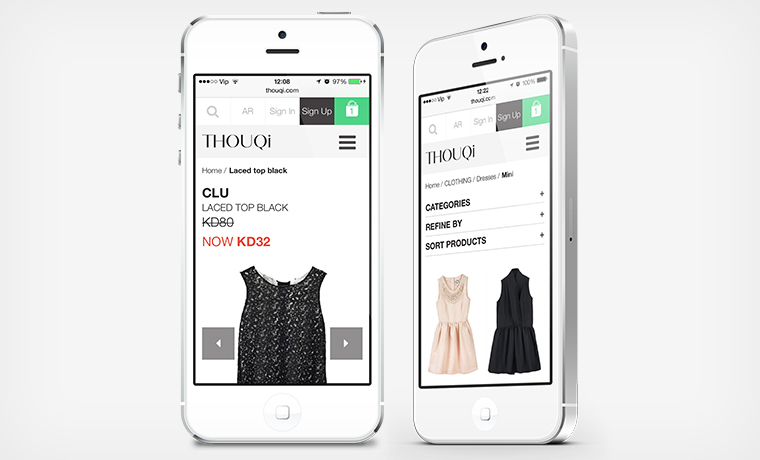 Following client's requirements, our designers got to work and made a responsive theme from scratch. The result is a site that not only offers good looks to its customers, but also looks great and modern itself.
Results
Thouqi means "my style" in Arabic and the meaning is interwoven in the whole vision of the store, from design and performance to business strategies.
Custom Measurement System, Widgentic, Attribute populated categories and other customised features, make Thouqi a complex site, but also one that performs so well you can't notice its backend complexity.
This mobile first responsive website is a first stop for MENA countries fashion lovers who are looking for their new apparel on wide variety of devices, from mobile to cinema display PC's.