The shopping experience makes your customers loyal

We often have a favorite store where we like to buy our products. For instance I like to buy groceries, clothes, and certain electronics like laptops, gadgets and mobile phones in stores I trust and where I'm comfortable buying in. When I need some of those products, I know which stores are best for me and that makes me not to think about other stores at all…

But sometimes, when we are not buying something everyday, or we don't have our comfortable store for those products, we turn our attention to finding the best-buy product. So, a few weeks ago I needed to buy a new TV. I was mostly researching, comparing and looking for an item that will have the lowest price for the best value. I entered a couple of stores to talk with the personnel to find an expert that will help me decide which TV should I buy, but unfortunately no one helped me as much as I wanted, so my connection with any of brands didn't happen. In the end I just bought the best value/price TV without getting a feeling that I won or got a good deal. Basically, the stores I visited missed their chance to make me comfortable buying there and to make me come there again if I need another TV or something similar.
We all have 2 types of shopping stages
Every shopper, me, and even you, goes through two stages of the shopping process. Myers-Briggs research calls those stages transactional and relational.
When we are in the transactional stage we fear that we are paying more than we had to pay, so we are mostly in researching, comparing and negotiating process. Since we are doing lots of research we are visiting many stores, but we are going to only one to finish our purchase and the rest of shops lose a sale.
In a relational stage we are looking at the store like a place where we'll come many times to make our purchases and for that we need to trust a store and be confident that this is the right place to buy our stuff.
Since shoppers, in transactional stage, shop all over the Internet, merchants often think that most shoppers stay in transactional stage. But actually, more purchases are quietly made by shoppers in relational stage.
Even though 78% of store visits were made by transactional shoppers, 72% of gross profit is coming from relational shoppers. So consequently relational shoppers represent a smaller share of store traffic, but a larger share of sales, higher closing ratios, higher average sales, and higher profit margins.
The shopping experience converts your transactional customers to relational
To make the customer a relational one, the same principles apply in the online environment as they are applied in real world stores. You need to make a great shopping experience for your customers because the joy of shopping is all in the mind of a shopper.
There are five areas that contribute to great shopping experience, based on a research report "Discovering 'WOW' – A study of Great Retail Shopping Experiences in North America":
Engagement: gaining customers confidence and trust,
Executional excellence: helping customers in decision making,
Brand experience: making customers feel that they are special and they'll always get a deal,
Expediting: being sensitive to customers by streamlining checkout process, etc.,
Problem recovery: helping resolve and compensate for problems to ensure complete satisfaction.
Even though all of these areas are important for a great shopping experience, brand experience and engagement have the biggest impact on transactional shoppers and of these two, brand experience is more important factor in nearly 40% of shoppers.
In the real world, shopping has transformed from acquiring the needed goods into a very rich experience, where you can watch a movie, go for a bowling, drink a coffee, eat in a restaurant, leave kids on a playground while you shop and many other activities. That kind of brand experience made people to come there and shop for fun, and for many, because of that experience, shopping can still be an epic win without buying a single item.
Gamification – way to make your online shopping experience great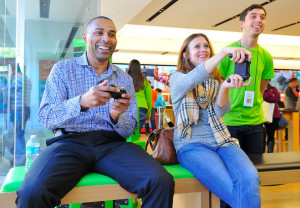 As shopping went online, a lot of the fun, interactive, and social experiences of shopping disappeared because a great brand experience is difficult to deliver to your customers online. You may have well designed site with intuitive information architecture and effective user interface, but to really initiate a conversation between consumers and your brand you will need the right tools, features and functionalities.


This is where gamification comes in place. You have surely heard about the term gamification already. If not, you have probably participated in some gamified sites, even if you may not even realized it.
Gamification means using game mechanics within a non-gaming environment to increase user participation. It is not just about making things more fun or turning them into a game. Gamification makes things fun because it triggers our appetite for competition, interaction, and "reputation". Rather than feeling tricked or manipulated, we feel a sense of control when participating in gamified shopping. As a result, shopping becomes more exciting and rewarding, while increasing engagement and shopper loyalty.
The most important thing to know about gamification is that you can not just implement "points and rewards" and expect that your customers engage. Gamification needs to be integrated deeply with your brand experience and linked with your business goals so your customers can feel they are part of something good.
Now that you have an introductory understanding of transactional and relational customers, shopping experience and how gamification fits in, in future posts we will dive in a bit deeper into some interesting topics about gamification, game dynamics and mechanics in e-commerce with examples and ideas. So stay tuned!
Related Inchoo Services