My previous article, CoolDash – Blank Magento extension for building admin system configuration area, was about blank start-up extension for building System > Configuration admin area. I used a lot of "funny" attribute names so that "get around" gets some speed. This extension is somewhat similar to previous one, except its meant to be a blank start-up extension for building items under main admin menu with sidebar and tabs.
Keep in mind that, once again, extension name is something I popped out of my head while I was making myself a coffee:).
Below are two screenshots for you to see final result.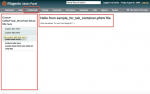 In short, this extension demonstrates the use of controllers (router definition under config file) and widgets in Magento.
Download Inchoo_CoffeeFreak extension for Magento.
Hope you find it useful.