Report from Magento Developers Paradise @ Ibiza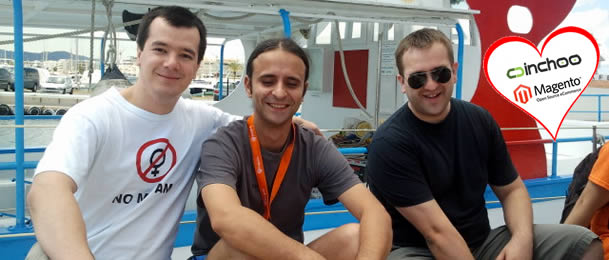 As is mentioned earlier at one of the posts, Tomas, Ivica and me were "the chosen ones" to go to Magento developers paradise conference at Ibiza. So how was it? In one word – incredible. It was paradise in its true meaning.
Some of the members traveled by plane for the very first time so it was interesting to watch their facial expressions during the takeoff. We met lots of great people, including Tsvetan Stoyhev, Thomas Slade from Blue Acorn, Myuselim Myuselimov, Josh from WebShopApps, guys from Magento core team and many others.
Organization of the conference was pretty much flawless. I enjoyed my stay in the hotel, the catamaran ride, organized visit through the old town, clubs, and free drinks everywhere.
The most interesting topics on the conference were Magento 2 and eBay's acquisition of Magento. In most of the lectures, speakers were referring to what can be expected in Magento 2.
Extensive official Magento documentation
jQuery instead of Prototype
Better model architecture
Improved theme fallback system
Multiple DB support (Oracle anyone?)
…and much more.
They told us that the current under development version of Magento 2 is already 20% faster than latest stable version of Magento. I was personally really impressed with what I heard, cause I never expected this much effort and enthusiasm to improve core things. They really do know community's problems and they are working on solutions.
Other products including Magento Mobile and MagentoGo were also presented along with some impressive statistics.
To conclude, we're looking forward to the release of Magento 2, we can feel another eCommerce revolution is on its way 🙂