Global e-commerce to hit $1.2 trillion this year with Asia in the front

Related Inchoo Services
E-commerce sales are forecast to increase 17% worldwide this year, to be exact – from $1,04 to $1,22 trillion, led by growth in the Asia-Pacific region.
Independent market research firm eMarketer released a study that points to trends expected to affect business-to-consumer (B2C)  e-commerce market in the coming years, claiming that e-commerce will increase by 17% globally in 2013, with worldwide sales expected to reach $1.2 trillion.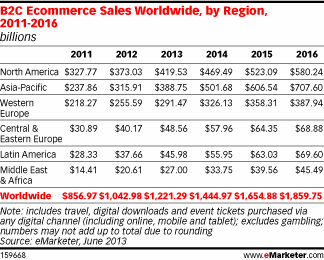 The Asia-Pacific region is driving e-commerce growth more than any other and is expected to outpace the rest of the world at 23% growth over last year. China and Indonesia are leading the region's growth, China up to 65% and Indonesia up to 71%.
North America is still the world's largest e-commerce driver and most mature market, where the rise compared with 2012 was 12%, or to be exact, from $373.03 to $419.5 billion this year.
Western Europe market, where e-commerce is significantly more mature than Asian-Pacific region, is still growing sales in the double digits aiming to $291.47 billion, although below the worldwide average of 17% this year.
Other fast-growing regions include Latin America, where total spending will reach $45.98 billion this year and Central and Eastern Europe where the digital buyers will spend $48,56 over last year's $40.17 billion.
What to conclude from all this numbers?
For those who follow the news and studies from e-commerce, these predictions are nothing new, but they are bringing specific numbers in one place. There is still significant room for growth in developing markets where many internet users are still not buying online. Western Europe and North America are the only regions in the world where a majority of the online population is also a digital buyer. As countries like China increase their wealth, it becomes inevitable that more of their citizens will be connected to the web. It is logical to assume that many of those Internet users will discover the advantages of buying online. By 2014, the Asia-Pacific region is expected to become the largest e-commerce market in the world.
We certainly see similarities in Middle East's growth, where some of our best clients are from. How about you? What are your predictions or experience?