Optimize your checkout process to stop losing customers

I often like to compare real world store examples and practices when I work on usability and conversion rate optimization for ecommerce sites. It's the easiest way to understand why people act the way they do on your site, why they convert or abandon, why they do mistakes, what they don't understand… When you have all the insights needed it will be easier for you to make assumptions and A/B test cases to start working on your CRO – conversion rate optimization.
Do you like standing in long lines while you shop your groceries at the supermarket? No? Well, neither do your customers. The wealthier society, the lower frustration tolerance. We are used to get what we want without much effort. Anything that is boring, difficult, needs time and effort in order to be achieved generates frustration. The bottom line is that the more complicated your checkout process is the more time is needed for your customers to finish their order and if you hit your customers' tolerance threshold they will leave.
Have you seen people leaving their cart and just going out of the store without buying? Have you seen people getting to the bank, taking their number then leaving? Have you ever left because you got to your frustration threshold? I am sure you did. I know I did.
Shoppers have their frustration tolerance in online environment too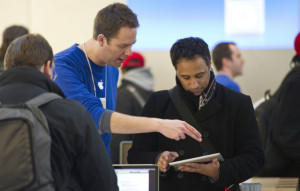 Online environment is no different from the real world when it comes to buyers' frustration tolerance. In my last article where I was writing about the shopping experience and how to keep customers coming back by converting them into relational buyers I was talking about my shopping experience while buying a TV and how I bought the best value/price TV…
What I didn't mention is that I didn't actually buy the TV from the company that had the lowest price for that model. Why? Well, the problem was that the checkout on their store was a really big mess.
I really tried to buy that TV on their online store! Pre registration was required, one error cleared all form fields I previously entered, and when redirection to their payment gateway was made all that info from the checkout process wasn't passed on and I was asked to enter it again.
This was my snapping point, my frustration tolerance threshold. For 15 minutes I was registering, entering all the necessary info, so doing it again was out of the question. This bad experience made me thinking would I buy anything at all from them. What would the delivery look like? Only bad bad thoughts were going through my head. I had a feeling that they don't care about their customers, so why should I become one of them? So I went to another store and spent approximately $50 more for the same product and the other company lost an easy sale and a customer.
Even though I have really high frustration tolerance for a checkout process, since I work in ecommerce business and I understand what is what, you can imagine how frustrating it can be for some occasional, or even worse a new shopper when they don't know what's happening during the checkout process. Their frustration tolerance can be really low and your business can quickly look very bad in their eyes.
This is why you need to ease out your customers while they shop in your online store. If you are not optimizing your checkout process, you are losing your customers! So pay attention to all segments of your checkout page (layout, content, navigation and focus) and start your checkout optimization right now!
Optimizing Magento checkout process (Part 1 – Layout and Content) – Coming soon!